Half Model for Deep Dive Tender - Canadian Navy Project

Half model with plating indicated for deep dive tender donated by Edwin Chan
The Canadian Navy was looking for a ship to provide service for submersibles and deep diving in the early 1970's. This model was produced in the design department and indicates shape, thickness and layout of the plating for the ship.
This model was to serve as part of the design of the ship but when the machinery was added there were stability problems. This meant that an alternatesolution was researched and an Italian fishing trawler, ASPS Quarto, built in 1965 became part the Canadian fleet when purchased in 1975. The ship was then brought to the Davie Shipbuilding Company, Quebec, in December 1977 for a rebuild as a deep dive tender. She was commissioned in November 1978 as HMCS Cormorant.
The pictorial record of her conversion and rebuild can be found at HMCS Cormorant photo albums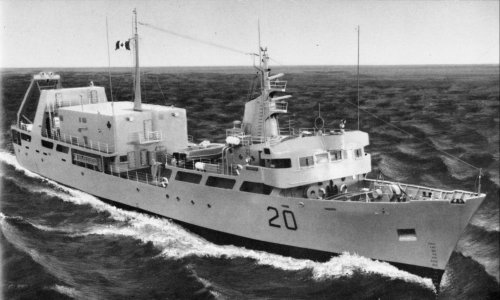 HMCS Cormorant at Sea in 1978.
Our model collection is too extensive to have them all on display at The Victory at any one time. On request, and with a little advance notice, any model in our reserves can be made available to visitors.