Saturday, 3rd May 2014 from 2 - 5pm.
White Ensign Flying: Corvette HMCS Trentonian
Roger Litwiller's new book published by Dundurn, ISBN: 1459710398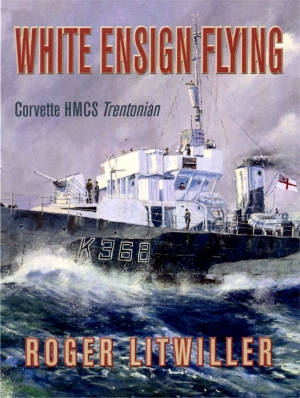 The Naval Marine Archive ­ The Canadian Collection is pleased to have author Roger Litwiller signing his new book White Ensign Flying: Corvette HMCS Trentonian on Saturday the 3rd of May 2014 at The Victory, 205 Main Street, Picton, Ontario.
White Ensign Flying tells the story of HMCS Trentonian, a Canadian corvette built in Kingston, Ontario and named for the local town of Trenton and which served during the Second World War. HMCS Trentonian carried out escort duty protecting the convoys from the U-Boats across the North Atlantic and through the dangerous waters off the coasts of England and France. The ship recieved friendly-fire from the Americans during Operation Neptune and towards the end of the war on 22nd February 1945, she was the last corvette to be sunk by the enemy.
The author interviewed many of the men who served in the Trentonian and collected their stories. This unique personal perspective of the sailors was then combined with the official record of the ship to allow an intimate insight into the life onboard – from the tedium of daily life at sea to the terror of fighting for one's life in a sinking ship.
The author has written this book as a "tribute to the courage, honour and sacrifice of the veterans, who have become known as 'Our Greatest Generation.'"