Grand Tour of Tony Lassing, C.S.M.A.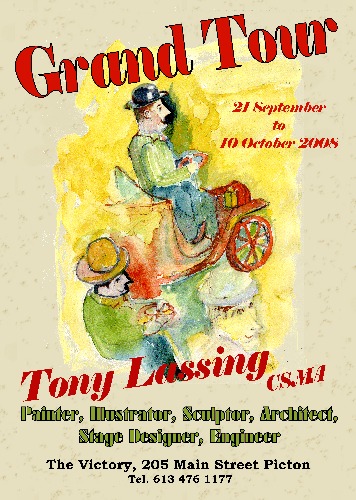 Visitors will be able enjoy the panorama the lifework of a very talented and generous individual who as painter, engineer, sculptor, illustrator, architect, stage designer and submariner has made an important contribution to society.
J. H. A. Lassing, P. Eng, OAA, MRAIC, Ret., was born in Amsterdam in 1928. Tony signed up in the Koninklijke Marine (Royal Netherlands Navy) and served as corporal machinist on board the T-class submarine S813 "Zeehond" (Seal) in 1951-2. He then settled in the Quinte region of Ontario in 1954 and currently lives in Trenton. He was invited to join as a Member artist of the Canadian Society of Marine Artists in 2006 and has been an active member since.
He met his wife Yvonne (Morin) in the late 50's and together for many years they have enjoyed travel between Quinte and Europe, visiting family and on business.
Tony worked as a draftsman for steel construction, working on the details of where every screw and attachment went. He rewrote his engineering degree in Ontario after having been qualified in Holland and in the early 60's established his own structural engineering company. He met Dave Dibben and in1981 they joined forces to set up a new company in Trenton the 'Lassing Dibben Consulting Engineers Ltd.' for bulk handling with 30 employees and world wide sales.
Tony's work as an engineer brought him in contact with many cargo ships and their ports worldwide. His paintings are inspired by these ships and developed from his sketches made at the time.
He is a self-taught artist and has illustrated magazines and books, including Al Purdy's "Quest for Ouzo" in 1969. In his art work, his subjects span from fantasy to precise realism. His works are in watercolour, pastel, and oil and are very evocative from the historical paintings of Amsterdam and life on a submarine to the freighters which ply the Great Lakes. He is a master at setting the stage and allowing the viewer to meander through the painting.
Over for forty five years he has designed stage sets and costumes and worked with the Belleville Theatre Guild. He has been a consultant for different theatres for the mechanical side of stage backdrops. He stills enjoys the disciplines of engineering and architecture. He has shown at the Montreal Museum of Fine Arts and the Jani Exhibition in Stratford, among others. He is a founding member of Gallery 121 of Belleville, Ontario has his work on sale there and here at "The Victory" - gallery of the Canadian Society of Marine Artists.
In the upcoming Grand Tour exhibition, opening by invitation on 20th September and to the public from the 21st to the 10th October 2008 every day 10am to 5pm, some works are on loan but many of his pieces are for sale making this an ideal opportunity to able to own a painting or sculpture by this truly most remarkable and talented artist.