Sea Hunters visit ACS
Collaborating with the Sea Hunters team of Jim Delgado, who is not only the lead presenter for the show but also Executive Director of the Vancouver Maritime Museum, and Mike Fletcher, one of their senior divers, our own E.D. Paul Adamthwaite is seen here discussing their recent days' diving off the shores of Prince Edward County, in Lake Ontario.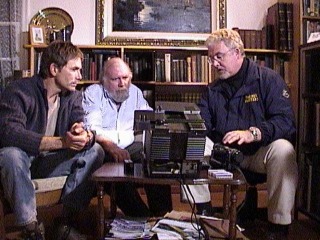 The photo was taken in our reading room, during a review of the tapes of this latest expedition. The research team scanned and dove the waters off Point Petre filming footage for the 91st episode of their popular television series.
The search was centred around looking for any remnants of the nine mini-Arrow test models launched from ramps here in the County - all that is left of the Avro Arrow which the government ordered destroyed by the A.V. Roe Canada Ltd. plant in Malton in 1959.
Research
The team, however, also explored an unexpected wreck - that of a C19th schooner only recently discovered and as yet undocumented.
This Society is helping with the background of the shipping history of this area as well as specific recognition of this magnificently preserved vessel. During the Sea Hunters three lengthy visits to our premises, we started the long process of reviewing the nearly two thousand sailing vessels that we know to have operated in and around the waters of Prince Edward County.
On Film with the Sea Hunters
It is all very exciting and our members should look out for this episode of the Sea Hunters - regularly seen by over 30 million people world wide - coming on the Discovery or History channel here in Canada, and on History Television channel or National Geographic International elsewhere.
The Sea Hunters was founded by the noted maritime author Clive Cussler, with a view to uncovering historical shipwrecks around the globe for educational and preservation purposes.