The Nelson Collection
The Most Noble Lord Horatio Nelson, Viscount and Baron Nelson, of the Nile and of Burnham Thorpe in the County of Norfolk, Baron Nelson of the Nile and of Hilborough in the said County, Knight of the Most Honourable Order of the Bath, Vice Admiral of the White Squadron of the Fleet, Commander in Chief of his Majesty's Ships and Vessels in the Mediterranean, Duke of Bronté in the Kingdom of Sicily, Knight Grand Cross of the Sicilian Order of St Ferdinand and of Merit, Member of the Ottoman Order of the Crescent, Knight Grand Commander of the Order of St Joachim.
Born in Burnham Thorpe, Norfolk, 29 September 1758 – died at the Battle of Trafalgar, 21 October 1805.
---
The Archives and Collections Society presents in The Victory gallery the display from our Nelson Collection including recent additions on view for first time. Special paintings - oils and prints - set the scene, with sculptures, notable memorabilia and books adding to the history of the day.
Among the items on display include a British naval cutlass from 1804, a copy of Nelson's purse made of green silk with coins of the period, the original he wore at the Battle of Trafalgar. There is a reproduction of The Times, 7 November 1805 which gives the first reporting to the public about the victory of the naval battle, The Battle of Trafalgar, and tragedy of losing the Nation's hero, Horatio Nelson.
We have a wealth of information about our of the HMS Victory which is a centrepiece of our gallery. The visitors are quite intrigued with the model and the historical information about this ship of the line.
There is an index of many of our books in the Nelson collection. Visit to view some of our various titles.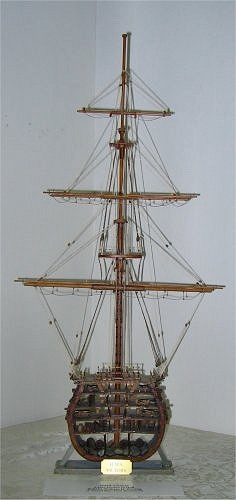 Cross section HMS Victory