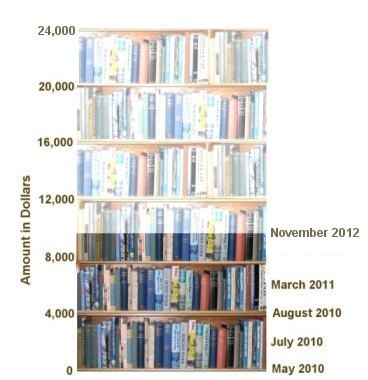 To date (November 2012) we have reached $9,500.
Thank you
In honour of, or in memory of a person of your choice
Our current goal is the continued expansion of our public area by completion of the renovation of the second floor. We have made good progress – see our Second Floor Library and Conference Area. This was only possible with the support of our donors whose generosity made this attainable. To all involved, our sincerest "thank you". This involved the replastering, painting and carpeting of the hall and front rooms which has been done. Book shelves are finished in the rare book room and the reading room shelves. Thanks to our volunteers and the professionals.
The Book Shelf Campaign for the second floor began May 2010 and you can help us by completing the remaining half of the second floor. This will allow convenient access to much more of the various amazing collections which have been donated and which – until we get the shelving completed – are carefully stored in boxes.

Your donation will be recognized by an engraved brass plaque, such as the examples shown here, mounted on the shelf that you sponsor; this will be maintained by the Naval Marine Archive – The Canadian Collection. A printable form for the shelving campaign is down-loadable; this is where you designate the name of your choice for the plaque on the shelf.

Donations by credit card can also be made, securely and conveniently, on our secure server is available here or the PayPal link can be used.
All donations are, of course, tax receiptable.
For more information on how you can become a donor to our institution, please contact us at:
N

aval

M

arine

A

rchive

– The Canadian Collection
The Victory, 205 Main Street,
Picton, ON, K0K 2T0
Canada

Telephone: 1-613-476-1177
E-mail: for more information

We gratefully acknowledge a 2011 grant from Prince Edward/Lennox & Addington Community Futures Development Corporation, for the climate control and monitoring in the rare book room and second floor library area. Thank you.