John Harford Harland (1923-2018)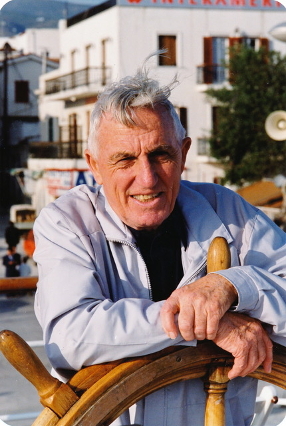 Dr John Harland was born 8 May 1923 in Belfast. At an early age, he developed an intense interest in ships and sailors, enjoying visits to the Belfast docklands as a boy and making ship models. He was educated at Methodist College and Queen's University, Belfast, entering Medical School in September 1940. In December 1942, he interrupted medical studies to join the Royal Navy as a "Hostilities only" volunteer. Following basic training (as Ord.Sea. JX419332) at HMS Raleigh, mandatory sea-time aboard HMS Pangbourne, a WW1 vintage coal-burning fleet minesweeper, he underwent officer training at HMS King Alfred and additional torpedo and gunnery training in preparation for service in Coastal Forces.
In early 1944, he was posted to the 123rd coastal force flotilla in Freetown, skippering motor launch HDML 1106 and B-class Fairmile ML 256. In early 1945 he was posted to Cape Town, where his first task was ferrying a series of 60 foot Motor Fishing Vessels from the Cape to Durban. These craft were propelled by a small diesel but also equipped with sails. While working at the Sea Transport Office he was involved in the return of several whalecatchers to the Tønsberg Whaling Company. These had been requisitioned for naval service early in the War. Promoted Lieuteneant, he spent a further year as Transport Officer at the Naval Air Station, Cape Town and then returned to the UK for demobilization and resumption of medical school, graduating in December 1949. He emigrated to Canada in January 1951, later undergoing training as an anesthesiologist. Dr Harland retired from practice in 1986.
During naval service he developed a special interest in sailing warships and steam whale catchers, and in the course of research he became familiar with several foreign languages particularly German and Norwegian. After the Navy, he retained an interest in maritime history and has authored five books on the subject. The first two in the list were inspired by experience in South Africa:
He also translated Dr Peter Kirsch's Fireship: The Terror Weapon of the Age of Sail (2009) from German to English, and contributed many articles to nautical journals, notably the Mariner's Mirror and the Nautical Research Journal.
John Harland is a Fellow of the Society for Nautical Research. In 2017, he was awarded a Beaver medal by the Maritime Museum of British Columbia.
In 2015, Dr Harland donated his entire library of books to the Naval Marine ArchiveThe Canadian Collection in Picton, Ontario.
John Harford Harland passed away on 11 May 2018.