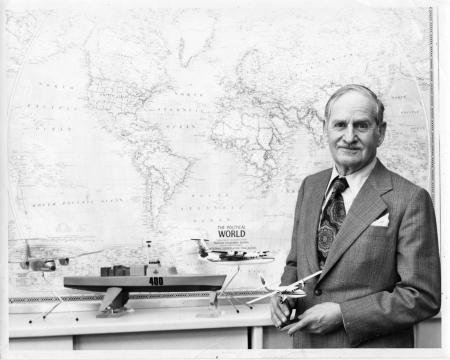 Richard William Becker
Richard William Becker
Richard William 'Dick' Becker was born and grew up in England. He enjoyed small boat sailing and ship building. During the second World War, as an engineer he worked on aeronautical projects such as: a steerable undercarriage, searchlight equipped fighters, a tailess tank carrying glider and a five ton airborne torpedo.
In 1947 Dick emigrated to Canada with his family to work on the AVRO CF 100 fighter. Three years later he changed jobs and began work with de Havilland. He was with the team to design the Otter. Several years later he became associated with the Canadian Navy projects, where he was project engineer for the 100 CF2F Tracker.
Then in the year 1960 the Canadian Defence Reasearch Board brought forward an innovative project for a hydrofoil navy ship. This was the 200 ton FHE400 Bras D'Or ASW hydrofoil. Dick became head of the engineering group and then, once the hull was built, he was the programme manager for the fitting out and sea trials periods. The work was a combined effort of areonautical and ship building expertise during the build and employed airmen and sailors in the trials. HMCS Bras D'Or achieved over 60 knots at sea and went in circles around the traditional ships. She is now at Musée maritime du Québec – Capitaine J.E. Bernier at L'Islet, Quebec.
Later Dick became manager of sales administration at de Havilland and was very much involved with the Dash 7 sales internationally.
The Naval Marine Archive now holds many of the technical papers, correspondence, books, photographs and video of Dick's involvement in the HMCS Bras D'Or project. The Collection can be searched through our