The Newcomen Society of North America collection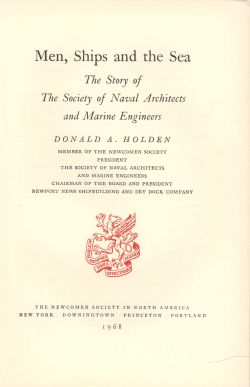 Newcomen papers, March 1968.
These occasional papers and adresses were published several times a year by the Newcomen Society of North America, the inspiration of co-founder Charles Penrose, Sr. (1886-1958).
Our collection of 134 separate issues dating from 1943 to 1992.
The title page of Men, Ships and the Sea : The Story of Naval Architects and Marine Engineers by Donald A. Holden and dated 1 March 1968 is shown here.
Collection: General
Availability: boxed, single
Indexing: by ACS, partial
We are actively endeavouring to complete this collection and have some duplicates for exchange or possible sale. Please contact us for donations or exchanges.