Robert James Pailthorpe, 1926-1999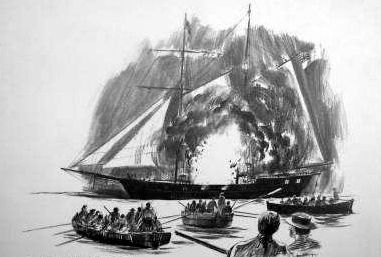 The Burning of the Gaspée
Robert James Pailthorpe was born on 31 March 1926, in Providence, Rhode Island, and enlisted (hostilities onlY) in the US Navy in 1944. He was most active as an artist in the 1960s and 70s and may have lived in the Virgin Islands as reproductions of his charcoal sketches of the USVI are quite common. He died on 14 March 1999, in Providence, Rhode Island.
Pailthorpe was a somewhat prolific artist - especially when it comes to his prints; they appear to have been produced from original charcoal sketches, with occasional additions in black ink, which lend themselves to extremely good printing techniques. His prints are often of such good quality that it is difficult for many people to differentiate them from an original without removing them from the frame.
We have some of Pailthorpe's works in our collections, including:
"Bark cruising on the grounds"
"The chase, Nantucket sleigh-ride"
"Cutting-in the whale"
"Full and by"
"Dead whale"
"Company Flag"
"Full Rigged Ship In The Marquesas"
"J-boats Ranger and Endeavour"
Rhode Island Bicentennial Prints 1976 (6) including "The Burning of the Gaspée", "General Nathanael Greene Home, Coventry, Rhode Island", "The Sloop Providence, 1774" and "Providence in 1776"
"Courageous (US26) against Australia (KA5)" (1977)
Pailthorpe was the illustrator of many books, including:
"The Mightiest Machine" by Campbell Jr. John W.; Hadley Publishing Company, 1947, 228 p.
"Exploring Martha's Vineyard" by Polly Burroughs; Chatham Press, 1973, ISBN 0-856990-64-7, 40 p.
"Black Vulmea's Vengeance & Other Tales of Pirates" by Robert E. Howard; Donald M. Grant, 1976, ISBN 0-937986-04-6, 223 p.
"The Red-headed League" by Pauk, Walter; Jamestown Publishers, 1976, ISBN 0-89061-061-4, [2 v.] (47; 59 p.)
"The case of the six Napoleons" by Pauk, Walter; Jamestown Publishers, 1976, ISBN 0-89061-058-4, 45 p.
"The Musgrave ritual" by Pauk, Walter; Jamestown Publishers, 1976, ISBN 0-89061-056-8, 39 p.
We would appreciate any further information about this artist.