W. Ross Richardson 1930 - 2012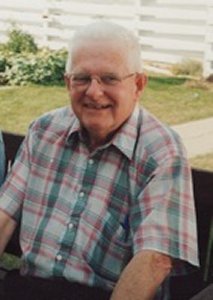 Ross Richardson was an avid aviation book collector. As such, he amassed a library that was no doubt the largest and most comprehensive private aviation collection in Canada, totalling over 15,000 volumes. Along with these books were an astounding collection of aviation trade periodicals, popular aviation magazines and priceless archival material gleaned from Avro Canada and Canadair. The majority of Ross' library now forms the backbone of the aviation collection held by the Naval Marine Archive The Canadian Collection. With his eclectic tastes in books, Ross also collected books on Canadian history as related to Marine, Arctic, R.C.M. Police and First World War activities.
Ross was born on a ranch near the small town of Eastend, Saskatchewan. After his father's death, the family moved to Banff, Alberta, where Ross attended high school. Captured by the allure of aircraft design at an early age, he attended the Spartan School of Aeronautics in Tulsa, Oklahoma, graduating as an aeronautical engineer. He cut his teeth as a member of the Final Design team on the famed CF-105 Avro Arrow, refining the air intakes and the forward fuselage section of the aircraft. On the shutdown of the Arrow Project, he moved to the Canadair/Bombardier Project Design team in Montreal where he worked on such aircraft as the CL-84 Tilt-wing, the CL-215 Water Bomber, and the fuselage of the RJ (Regional Jet) series. Ross, along with colleagues Saul Bernstein and Harry Oakes, holds a patent on the airborne retardant mixing system used in Canadair's CL-215/415 Water Bombers. Over the years Ross worked on many subsidiary aircraft projects: the Avro CF-100 swept-wing design; the Canadair Challenger; the CL-44 (Yukon); the CL-215T and CL-415 Water Bombers; plus numerous other minor fuselage design modifications. Ever fascinated with design and bush planes, Ross undertook a moonlight-consultant contract on the Found Brothers private venture, the FBA-1, a four-seat light aircraft.
After his retirement in 1996, Ross became a consultant for the Canada Aviation Museum (Ottawa, Ontario), Western Canada Aviation Museum (Winnipeg, Manitoba), and the Canadian Aviation Heritage Centre (Montréal, Québec). Recognized as an expert on early Fokker aircraft, he provided considerable technical support for the Fokker Super Universal (CF-AAM) restoration undertaken by Clark Seaborn of Calgary. Along with conducting the primary research for the Canadian Aviation Heritage Centre, he also provided drawings and continuing technical expertise for their reconstruction project of a Fairchild FC-2 'Razor-Back' (CF-AIH).
Canadian aviation history always fascinated Ross and it is little wonder that he was a founding member of the Canadian Aviation Historical Society (CAHS). He had been active also in the Northeast Aero Historians and a long standing member of the Canadian Aeronautics and Space Institute. In the age of electronic calculators and computer assisted drafting, Ross was a recognized expert of the old methods. He dazzled not a few with the speed of his calculations with his handy slide rule. His aircraft drawings were works of art not to mention meticulously researched and detailed renderings. Ross always worked in pencil and was renowned for leaving books filled with innumerable note papers sticking out from them as a reminder of some important fact to remember.
With his massive private library and his genius for finding the appropriate references, he had devoted a lot of his time to assist authors and historians. As a result, you might chance upon Ross' name in the acknowledgements of aviation books and articles.