Warship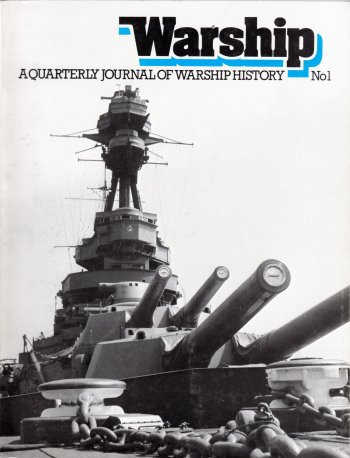 The first issue of Warship, January 1977
Disimbaguation:
Warship Profiles, British [collection complete],
Warship International American
The British publication Warship (Conway Maritime Press, with some later editions also published by Naval Institute Press) began as a quarterly magazine in January 1977, edited by Antony Preston, and included such articles as "Washington's Cherrytrees: The Evolution of the British 1921-22 Capital Ships", by N.J.M. Campbell, and "British Destroyer Appearance in World War II: Fleet Destroyers 1939-42", by Alan Raven. The journal became an annual in 1989, edited by Robert Gardiner who wrote in the preface "After twelve years of quarterly publication Warship has been transformed into an annual ... principally a response to the readership."
Our holdings:
The quarterlies: under ISSN: 0142-6222, there were forty-nine issues from January 1977 to January 1989, plus two "specials" in 1978. Our collection is complete and is catalogued here.
[Note: These same quarterlies were republished as annuals, volumes I to XII. We are currently missing vol. VI, XI and XII, but hold all others, which can be found here.]
Warship continued publication purely as an annual under various ISBNs, the first appearing in 1989; the titles appear as Warship 1989, Warship 1990 etc. We hold some, but not all of them:
Editors have included, in chronological order:
Antony Preston: Volumes I & II
John Roberts: Volumes III–VII
Randal Gray: Volume VIII
Andrew Lambert: Volumes IX–XI
Ian Grant: Volume XII
Robert Gardiner: Warship 1989–1993
John Roberts: Warship 1994–1995
David McLean and Antony Preston: Warship 1996–1998
Antony Preston: Warship 1999–2004
John Jordan: Warship 2005–2017 ... at least
Notes by PA, 18 August 2020