Our "Westcoast Fisherman" collection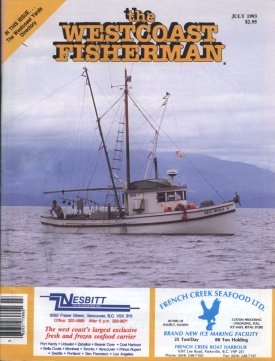 Westcoast Fisherman, v. 8, no. 1
See also our "Westcoast Mariner"collection.
Our collection is incomplete. extending from January 1993 to December 1997 which was the last issue before Mariner Life and Fisherman Life (our collections of these two titles are complete) replaced West Coast Fisherman.
Left: from the July 1993 issue - the Sea Wolf trolling off Lasquiti Island, a photo by Penny McDonald.
Collection: General
Availability: 56 issues boxed, single
Indexing is available in our catalogue entry.
We are actively collecting back issues of this magazine; if we already have, or receive more, doubles - we will gladly exchange with other collections. Please E-mail us.
Was published by Westcoast Publishing Ltd.
1496 West 72nd Avenue
Vancouver, BC
V6P 3C8
and now replaced by Mariner Life and Fisherman Life
Anchor Publishing Ltd
Suite 410 – 255 Newport Drive,
Port Moody, BC V3H 5H1 Canada