Top of the line new servers and Wi-Fi system for our computers
Spring-Summer 2022
We would like to thank the both governments, and particulary the Trillium Foundation, for their support in making it possible for our in-house staff to build a system able to have streaming on-line and Wi-Fi throughout the Victory. This has enabled the Naval Marine Archive to reach out to the public on-line and also at a greater distance with on-line learning and sharing information and research. The live Virtual Victory Kids program was a success and now these videos are available on-line. See Victory Kids and view the programmes for the topic modules.
We have also added an in-house search engine that is available in the masthead at the top of every page. After extensive coding and verification, our technicians are happy with the results – if there are too many, the "search results" page will allow you to refine your search with additional words and phrases. The search engine scans all text, data files and pdf documents, and is updated daily.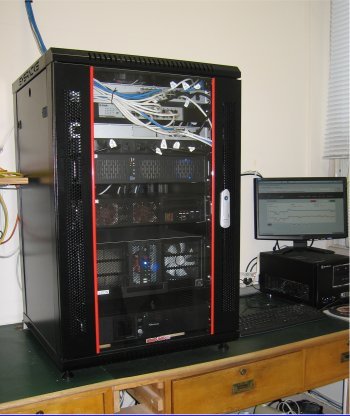 The servers and Wi-Fi in the case.
Introducing you to our servers. Our techies are very pleased with the result. Streaming and searches are fast and accurate. Security is very important and we are proud of our record in sharing with public the research and information that we have in our vast holdings.
Additionally, very high speed "meshed" Wi-Fi is avaialble throughout our premises, so visitors can obtain solid connectivity through their own smart phones, tablets and laptops.
We would like to invite you to peruse fascinating topics of local history, the shipping world of the Great Lakes over the last 150 years. See Research.