Celebrating the amazing life of David Alexander Stevenson
29 May 1921 – 1 March 2021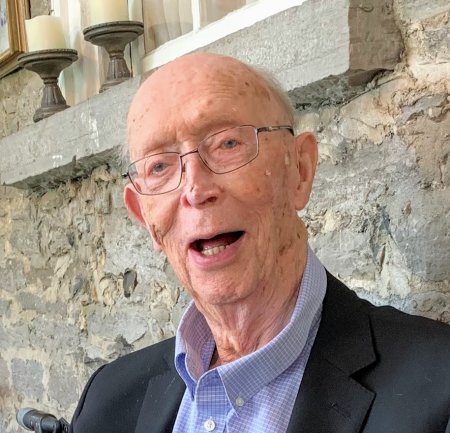 Dave enjoying his 98th
It is with the greatest sadness that we inform you that Dave Stevenson has passed away just before his one hundredth birthday.
Dave was our very first supporter in 1999; how he found us is perhaps too long to recount, and he became a member of the Admiral's Club in 2007.
David graduated from Memorial University and Nova Scotia Tech as a civil engineer. After a very short stint in the Canadian Army, he taught at Dalhousie University before starting his career in telecommunications with Bell Canada in Montreal, Toronto, and finally joined Bell-Northern Research/Nortel in Ottawa, where he recieved an award for his patented invention.
Dave had deep Newfoundland attachments, amongst others his family had operated the well known steam sealer BEAR – a Scottish built vessel which was captained by his great-grandfather Alexander Graham and participated in the Arctic search for the Greely expedition as well as Byrd's Antarctic expedition. The ship was later taken over by the US Coast Guard. Dave had researched and documented her history. His donation of a near complete collection of Newfoundland stamps, most having maritime art on them, are in our collections.
Dave celebrated his 98th birthday here with us at The Victory and in Amelia's Garden at the Waring House, couldn't do his 99th here because of Covid, but we were actively planning his hundredth for 29 May this year – we spoke with him just a few weeks ago and he was truly looking forward to it.
We counted Dave as a very good friend, a true gentleman in the old-fashioned sense, with a bright, inquiring mind, always looking for the sunlit side of the future. We will miss him. Ut tu requiescas in pace Dave.
Dave's last wishes asked for donations to our organization. A number of shelf plaques have been donated by friends of David Alexander Stevenson, his spirit lives on.