Our Library "Online Public Access Catalogue" or OPAC
News release, 11 January 2013.
We are pleased to announce that our library catalogue is now online at opac.navalmarinearchive.com. It currently contains over 20,000 books - all that remains to be done is to catalogue the remaining 15,000 books, 250,000 magazines and journals, 2,000 charts, several hundred paintings and engravings, and all the other documents, files and manuscripts at The Victory.
The OPAC allows you to search for titles, authors, subjects or keywords, or just browse our holdings. For example, just enter author 'C.W. Hunt' in the search box, and as you can see below a listing is produced. This image shows a part of the results that were generated.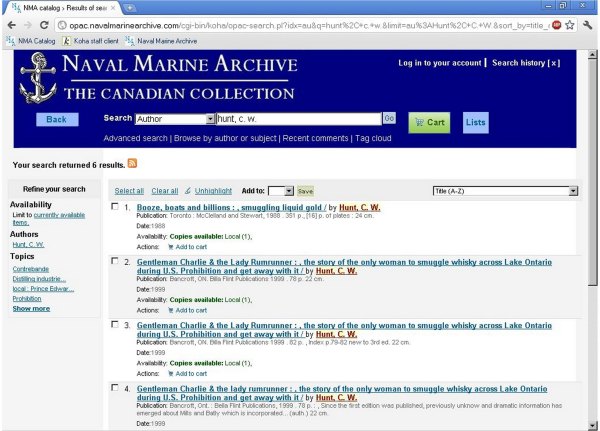 Importantly, we are now formally accepted as an international library (CaOPIACS - Ca[nada] O[ntario] P[icton] ACS (archives and collections society - we requested our international ID just before our name change) and have access to major libraries (Library Archives Canada, Library of Congress, British Library, Bibliotèque Nationale de France, etc) for automatic access [Z39.50] to their bibliographic records.
This online library project has been achieved by an investment about 1,400 hours of volunteer time into designing and implementing the system (including limited import of some of our spreadsheets), and continues with between 20 and 40 volunteer hours per week in cataloguing (this could well be increased if we can find more volunteers.) Technically, it involves a very powerful web server, on our premises with enhanced internet connectivity, running a Linux operating system. This has allowed us to develop a customized version of the Koha online library system open-source library system.