Our cork model of the Sagres gets another life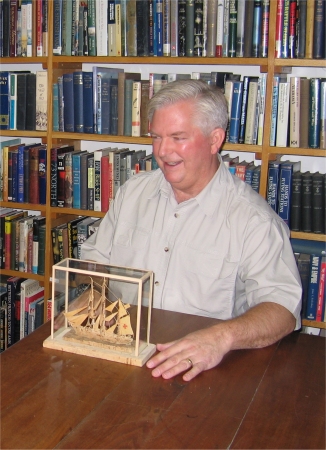 James Qualtrough returning the repaired model and case.
The delicate cork model of the Sagres, the Portuguese training ship, had become shipwrecked when it took a tumble.
Fortunately we had a visitor – now an enthusiastic volunteer – who was intrigued and decided that he would like to take up the challenge of putting the model and case back together.
We were delighted that Jim volunteered to take on this project and came back with a lovely result.
The Sagres (ex-Albert Leo Schlageter, ex-Guanabara) was launched from the Blohm and Voss yard in Hamburg in 1937; she is a sister ship of the Gorch Fock, the Horst Wessel, and the Romanian training vessel Mircea. The Sagres has a steel hull (292 x 39 x 17 feet), displaces 1755 tons and is rigged as a 3-masted barque. Since 1962 she has served the Portuguese Navy as a sail traing ship, and has been seen around the world at many major tall ship events.
The Sagres completed a circumnavigation in 2010-2011, prior to her 75th birthday (50th birthday in the Portuguese Navy) in 2013.