Canada Steamship Lines, early advertising
The Water Way on the Holiday
Via THE CANADA STEAMSHIP LINES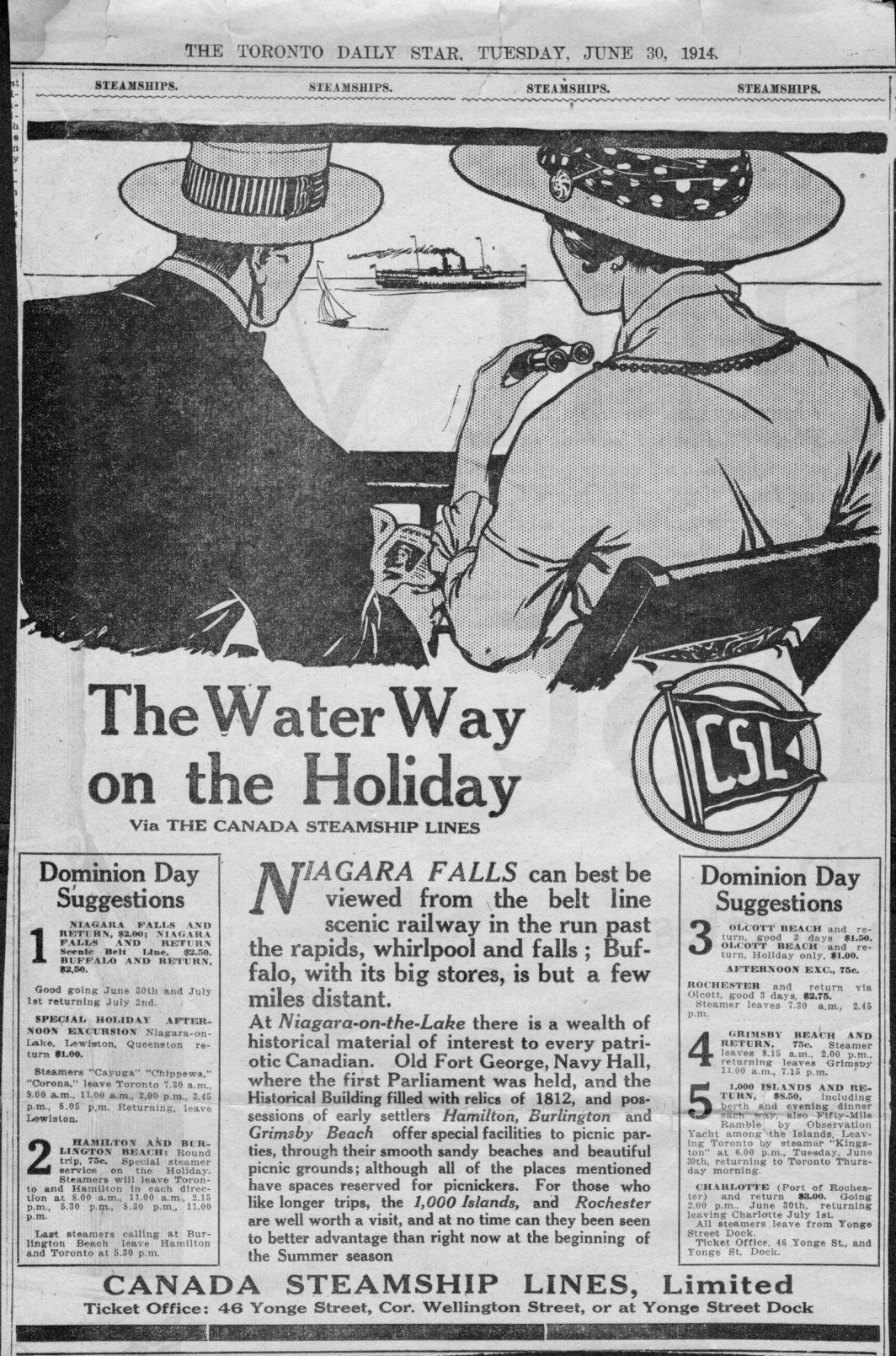 The Toronto Daily Star, 30 June 1914 Click for enlargement.
This advertisement appeared in the Toronto Daily Star, dated Tuesday June 30, 1914. The name "Canada Steamship Lines" was new to the Great Lakes, as it had only recently, December 1913, been announced Canadian Railway And Marine World at page 597: "It is stated that the name Canada Steamship Lines, Ltd., has been selected to replace the one previously adopted [Note; only since the previous year] Canada Transportation Lines, Ltd., in deference to the wishes of British investors." This investment was of $6,106,000 of 5% debenture stock to be made in London, England.

The advertising text contains:
NIAGARA FALLS can best be viewed from the belt line scenic railway in the run past the rapids, whirlpool and falls ; Buffalo, with its big stores, is but a few miles distant.
At Niagara-on-the-Lake there is a wealth of historical material of interest to every patriotic Canadian. Old Fort George, Navy Hall, where the first Parliament was held, and the Historical Building filled with relics of 1812, and possessions of early settlers. Hamilton, Burlington and Grimsby Beach offer special facilities to picnic parties, through their smooth sandy beaches and beautiful picnic grounds; although all of the places mentioned have spaces reserved for picnickers. For those who like longer trips, the 1,000 Islands, and Rochester are well worth a visit, and at no time can they been seen to better advantage than right now at the beginning of the Summer season.