Admirals Hood [Bligh and the Bounty, Nelson and HMS Victory]
| | | | | | | | | | |
These notes started to answer the question: "How many Hoods became Admirals? And what were their relationships if any with Bligh and HMS Bounty, and Nelson and HMS Victory?"
The HMS Bounty connection.
Charges of "Mutiny on the 28th of April, 1789, on board His Majesty's Ship BOUNTY, for running away with the ship and deserting His Majesty's Service" were brought against 10 officers and men (Coleman, Norman, McIntosh, Heywood, Morrison, Millward, Muspratt, Burkett, Ellison and Byrne). Only three were condemned to hanging (Ellison, Millward and Burkett). Sentence was executed 29 October, 1792, on board HMS Brunswick, Portsmouth Harbour. Detailed proceedings published May 1794.
Court-martial held on board HMS DUKE, Portsmouth Harbour, 12 August to 16 August 1792, sentencing 18 September, before 12 Captains, Presiding Officer, Vice-Admiral Lord Alexander Hood. Captain Albemarle Bertie was related to mutineer Peter Heywood. Sentence executed 29 October, 1792, on board HMS Brunswick, Portsmouth Harbour.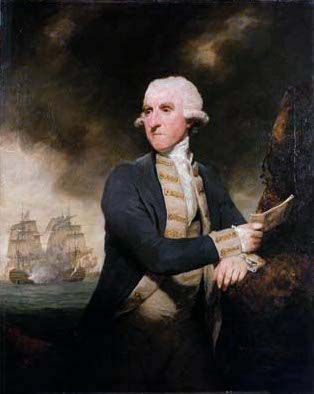 Portrait of Admiral Sir Samuel Hood, by Joshua Reynolds.
The Right Honourable Samuel Lord Hood
The Right Honourable Samuel Lord Hood (1st Viscount Hood of Whitley) (1724-1816) had known Bligh. He had already been C.-in-C. Portsmouth and given Bligh his sailing orders in 1787.
12 December 1724: Born in Butleigh, Somerset, to Vicar Samuel Hood and his wife Mary.
1740/1741: Entered Royal Navy. Posted to HMS Romney as servant to Capt Thomas Smith. Advanced to Able Seaman under Romney's next master, Capt Thomas Grenville.
April 1743: Transferred to HMS Garland
November 1743: Posted to HMS Sheerness under Captain George Rodney. Advanced to midshipman.
September 1744: Transferred to HMS Ludlow Castle (under Capt Rodney once more).
January 1746: Assigned to HMS Exeter under Commodore Thomas Smith. Hood was soon appointed lieutenant and posted to HMS Winchelsea under Capt Henry Dyve.
November 1746: Lightly wounded (hand) during an engagement with French frigate Subtile (the Subtile surrendered and was later brought into the Royal Navy as HMS Amazon).
March 1748: Appointed to HMS Greenwich under Capt John Montagu. Later in the year Hood was posted to HMS Lyon.
November 1748: Lyon paid-off. Hood placed on half-pay.
1749: Married Susannah Linzee, daughter of Portsmouth's Mayor.
January 1753: Posted to HMS Invincible guard ship in Portsmouth.
May 1753: Posted to HMS Terrible.
1754: Promoted to commander at the young age of 30. Assigned to sloop HMS Jamaica. Served in North American waters.
July 1756: Posted to HMS Lively.
1756: Made Post-Captain of HMS Grafton.
January-May 1757: Took temporary command of three ships: HMS Torbay (January), HMS Tartar (01 April) and HMS Antelope (30 April). In May, aboard Antelope, he helped wreck the French ship Aquilon and capture at least two privateers.
July 1757: Captain of frigate HMS Bideford under Sir Edward Hawke.
February/March 1758: Captain of HMS Vestal under Sir Edward Hawke. Participated in the attacks on the Isle of Aix.
21 February 1759: While enroute to North American, engaged and captured the French frigate Bellona
July 1759: Served under Lord Rodney in the bombardment of Havre de Grace.
1760-1763: Assigned to primarily convoy escort duties aboard HMS Levant in the Mediterranean. Also served off Ireland.
1763: Levant paid-off. Hood given command of HMS Thunderer guard ship at Portsmouth.
April 1767: Appointed Commander-in-Chief of His Majesty's ships on the New England station in North America. Commanded Romney.
1771-1773: Commanded HMS Royal William guard ship at Portsmouth.
1773-1776: Commanded HMS Marlborough. Following a devastating and fatal magazine explosion, Marlborough was taken out of service. Hood transferred to HMS Courageux.
January 1778: Appointed Commissioner at Portsmouth and made Governor of the Naval Academy.
20 May 1778: Created a baronet by King George III during the King's visit to Portsmouth.
September 1780: Promoted to Rear Admiral of the Blue.
1781: Hood, in command aboard HMS Barfleur, was assigned a squadron and sent to support Lord Rodney against the French in the West Indies and off North America. Participated in numerous skirmishes with the French. The most notable achievement was the defeat and capture of the French warship Ville de Paris was captured. Captured two other vessels as well.
September 1782: Created as Baron Hood of Catherington.
1784-1788: Served as M.P. for Westminster (Tory)
April 1786-1789: Appointed Commander-in-Chief at Portsmouth (aboard Barfleur).
September 1787: Promoted to Vice Admiral
1787: Gave William Bligh his sailing orders for the Bounty
1788-1795: Served as a Lord of the Admiralty.
1789-1790: Served as MP for Reigate
February 1793: Appointed Commander-in-Chief of the Mediterranean Station following the outbreak of the French Revolution. Took command of HMS Victory and directed the capture of Toulon and Corsica.
1794: Promoted to Admiral of the Blue. Returned to England late in the year.
1795: Promoted to Admiral of the White. Retired from active naval service. Made an elder brother of Trinity House.
March 1796: Appointed Governor of Greenwich Hospital
June 1796: Created a peer in Great Britain as Viscount Hood of Whitley, Warwick.
27 June 1816: Lord Hood died in Bath on 27 June 1816, aged 92 years.
HMS Victory connections: Lord Hood had commanded HMS Victory (certainly in 1792 as he took "mutineer" Heywood aboard, after his pardon, as a Midshipman) and used her as his flagship as C.-in-C. Mediterranean Fleet May 93 - Oct 94. (Nelson, who anecdotally first met Admiral Lord Hood off Staten Island, N.Y. in 1782, commanded HMS VICTORY May 1803 to Trafalgar, 21 Oct 1805). Additionally it was Hood who was instrumental in giving Nelson his first command of a ship of the line (Jan 1793, Agamemnon, 64). Hood finally lost his temper (one too many times) with Spencer, First Lord of the Admiralty, and was stripped of command in 1795; the following year he was appointed Governor of the Greenwich Hospital for Seamen - a post he held for twenty or more years until his death at age 91. He was one of the two "Supporters" of the Chief Mourner at Nelson's State Funeral (8 Jan 1806) - reported as "Admiral Samuel Viscount Hood"; Bligh, by now Admiral, was also present although hardly noticed.
This Samuel Hood had a brother Alexander, also Admiral, who later became Lord Bridport; he was C.-in-C. of the Channel Fleet at the time of the Spithead/Nore mutiny of 1797 (Bligh, still a Captain was also sent to Yarmouth to investigate this event). Matters are complicated by the fact that these two brothers, Samuel and Alexander, had two cousins, Alexander and Samuel, who also both became Admirals.
Admiral Sir Samuel Hood
The next Samuel Hood is more contemporary with Nelson; cousin of Lord Hood (under whom he had served in the early 80s), Sir Samuel Hood (1762-1814). He commanded the ZEALOUS under Nelson's orders at Santa Cruz and at the Nile (Nelson left him in charge after the battle), later rejoining Nelson at the two Sicilies. He is perhaps best known as the "Hero of Diamond Rock" (a Caribbean victory over the French). He was not at Trafalgar - he had lost his arm off Rochefort 25 September 1805 in HMS CENTAUR.
27 November 1762: Born in Kingsland to Samuel and Anne Hood.
1776: Entered Royal Navy and was assigned to HMS COURAGEUX. COURAGEUX was commanded by 2nd cousin Captain (later 1st Viscount) Samuel Hood.

Captain (promoted Vice-Admiral in 1787) Alexander Hood,
by Lemuel Francis Abbott.

1778: Transferred to HMS ROBUST under 2nd cousin Captain (later Viscount Bridport) Alexander Hood (1726-1814).
1779 - 1780: Served in Channel Fleet aboard sloop LIVELY.
October 1780: Reassigned to HMS BARFLEUR in West Indies. BARFLEUR was the command ship of 2nd cousin Admiral Sir Samuel Hood.
1781: Promoted to lieutenant. Saw action against the French Navy (Count De Grasse) at Martinique (April 1781), Cape Henry (Sept 1781), St Kitts (Jan 1782), Dominica (April 1782) and Mona Passage (April 1782).
1782: Appointed to RENARD. Returned in her to England in 1782/1783.
1783 - 1785: Lived/studied in France.
1785: Returned to England. Appointed to the sloop HMS WEASEL.
1788 - 1789: Commanded frigate HMS THISBE.
1790 - 1794: Commanded frigate HMS JUNO. Note: In Feb 1791, while JUNO was in St Anne's Harbour, Jamaica, Hood personally rescued 3 wrecked sailors during a particularly violent storm. For his personal bravery he was awarded a 100 guinea sword by the Jamaican House of Assembly. Hood saw action at Toulon and Corsica in 1793 (JUNO was then under Lord Howe and the Mediterranean Fleet). A very interesting thing happened to Hood during this campaign: The English fleet had occupied the harbour/port at Toulon until French ground forces took the city. The Royal Navy ships immediately departed. Hood had been off on a separate mission at the time of the withdrawal. Having completed his mission, he proceeded back to Toulon. After some rather clever tricks by the French to convince him the port was still in English hands, Hood realised the truth. Under fire from French guns, he cut his anchor cables and left the scene...a very narrow escape indeed.
1794 - 1796: Commanded frigate HMS AIGLE.
April 1796: Transferred to ship of the line HMS ZEALOUS. Served under Admirals Jervis and Troubridge. Also served under Lord Nelson at the Battle of the Nile and in the defence of Salerno. Note: At the Battle of the Nile, Zealous defeated the French ship Guerrier. Nelson was highly impressed by Hood's actions and left him in charge of the blockade against French forces in Egypt.
May 1800: Transferred to HMS COURAGEUX under Sir John Warren.
January 1801: In command of HMS VENERABLE under Sir James Saumarez. Saw action at Algeciras in July. Venerable was heavily damaged during action shortly thereafter and had to be paid off.
1802: Now a commander, Hood became Commander-in-Chief of the Leeward Islands. Aboard HMS CENTAUR, Hood helped capture Trinidad & Tobago, plus saw action supporting efforts at Demerara, Essequibo, Berbice and Suriname.
25 September 1805: Hood was seriously wounded during an engagement with French ships off Rochefort. He was shot by a musket in the right elbow. The arm had to be amputated. Even so, Hood's force captured 4 frigates during the action.
October 1807: Promoted to Rear Admiral (still commanding aboard HMS CENTAUR). Made second in command of Baltic Fleet.
August 1808: Assigned to HMS IMPLACABLE. Attached to the Swedish Fleet, IMPLACABLE captured then destroyed the Russian warship Sewolod.
April 1809: Created a baronet.
1809 - 1811: Commanded elements in the Mediterranean theatre.
August 1811: Promoted to Vice Admiral. Appointed shortly thereafter to be Commander-in-Chief of the East Indies.
24 December 1814: Died at Madras following days spent in a high fever.
There is yet another Samuel Hood who was, as a naval Captain, part of the Board at the enquiry of HMS SHANNON and the Indian Mutiny of 1857-58. I have not yet established whether he is related, although logic may so suggest.
The last of the famous line of Admirals Hood, was Rear Admiral the Honourable Horace Hood, who died tragically, but gloriously, on the battle cruiser HMS INVICIBLE at Jutland. Gerard Fiennes (I think) wrote the ballad which contains:
"Out flew the signal from the LION - 'Take station ahead'. No need
To break the order for battle to one of that seaman breed.
A Hood was Nelson's sea daddy; this Hood bears Nelson's name;
What Nelson did at Saint Vincent - trust him, he'll do the same"
The "first" HMS LORD HOOD was a 14 gun vessel, hired for convoy duty in the North Sea. She was named after Samuel Lord Hood. Returned to her civilian owners 1798.
The second HMS HOOD (1859) was an Edgar class warship - an 80 gun sailing vessel - later converted to steam power and fitted with 91 guns. Decommissioned 1888.
The third HMS HOOD (1891) was a modified 14 gun ROYAL SOVEREIGN class battleship. She served a stint with the Mediterranean Fleet before being sunk as part of the U-boat defence of Portland Harbour in 1914.
The fourth HMS HOOD was the battle cruiser, the most remembered HOOD. Laid down 1916 by John Brown & Company Shipyards, Clydebank she was commissioned 1920. She sank with only 3 survivors after being hit by the BISMARK on 24 May 1941.
The "fifth" HMS LORD HOOD was hired by the Royal Navy (1939 to 1946) as a mine sweeper.
Lastly, the British Training Ship HOOD is the 55th Division of the Nautical Training Corps for Sea Cadets, and I seem to remember that the Canadian Sea Cadets have or had a shore establishment named HOOD.
| | | | | | | | | | |