C.H.J Snider, 1879-1971
C.H.J. Snider's dedication as a marine researcher of Great Lakes schooners is greatly valued today. Starting as a youth he made notes of the schooners he saw in Toronto harbour and elsewhere, drew sketches of many of them, and talked extensively with their crew.
Charles Henry Jeremy Snider was a fifth generation Canadian. The Snider family were palatines who left Hanover which is now Germany in 1742. Initially they lived in Holland, then subsequently in the thirteen colonies. They settled in Pennsylvania. Eventually the family migrated to British North America with the United Empire loyalist migrations. The Snider family trekked northward in a two-year wagon journey, and reached Vaughan township, York County, Upper Canada in 1797.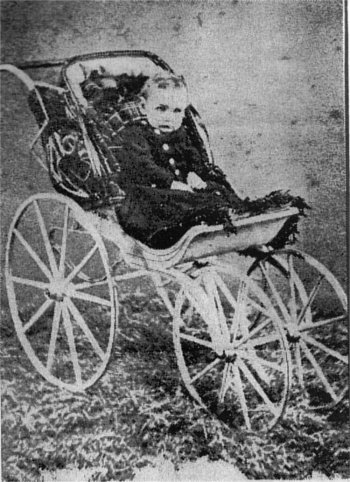 In his carriage ...
C.H.J. Snider, known to his many close friends as "Jerry" Snider, was the first-born of Mary Lavina [sp?] and J.H. Snider. His birth-date was May 26, 1879. At that point the Snider family lived at Sherwood, a hamlet near Maple, Ontario and north of Toronto.
At the age of five, C.H.J. pestered his elders to draw him pictures of vessels. Before he was six he was quite convinced that there were inaccuracies in these drawings. He concluded however that vessels were indeed difficult to draw from imagination. Snider had been studying pictures of them in books and attempted to draw from them. It soon became obvious to him what was correct and what was incorrect!
Throughout his life Snider continued his passion to study vessels. He admired their beauty of form, of line, of colours, and of motion. During his first ten years "Charlie", as he was then known moved with his family from Sherwood to Maple to Thornhill, Ontario and then Kleinburg. All these villages were close to Toronto. During this time his two brothers, Roy and Sage, were born.
Snider attended Kleinburg Public School. He was ten years old in 1889 when he journeyed to the village of Weston, just to the northwest of Toronto, to write his high school entrance examination. He passed with honours. Before commencing his studies at Jarvis Collegiate (the old Toronto grammar school), Snider was a student for one term at the Auditorium of Art, which at the time was situated at the northeast corner of Queen Street West and James Street. The building eventually became the site of the Downtown Toronto store of Eaton's of Canada. The Auditorium of Art was later renamed the Ontario College of Art. Reverend W. Archibald McMurchy was principle and Mathematics head at the Auditorium of Art at the time Snider was a student there. "Charlie" Snider enjoyed sketching, painting and illustrating all of which assisted him when he began his writing career. For example, as an adult he contributed greatly to the illustrations in the second edition of John Ross Robertson's superb "Landmarks of Toronto" series.
In 1890, the Snider family moved to Toronto when C.H.J.'s parents constructed the Helping Hand Mission at 182, Adelaide Street West. This was a prisoners' aide organization which later moved to 150, Simcoe Street.
Soon the young "Charlie" secured his first job. For $1.25 a week he delivered a free advertising paper called "Bargains" to all residents in the northern and southern neighbourhoods of Parkdale in Toronto's west end. This area began at Davenport Road, north of the railway bridges at Dundas Street West to Sunnyside and South to Lake Ontario.
The same $1.25 paid by Macrae and Macrae included his services as telephone messenger all over the city. At that time Toronto had only slightly more than 3,000 telephones as the device was still a relatively recent invention. Persons wanting this quick communication with family, friends and for business, phoned the Macrae office at Bay and Melinda Streets in Downtown Toronto, which in turn dispatched the young Snider to deliver the message. This proved to be a bone wearying, any hour of the day or night job, in any weather. Times were challenging in the 1890's and $1.25 seemed a fortune to a young boy!
Snider described his love of the water in his teenage years in this manner:
"he began sailing in 1891 in the ex-timber drogher Albacore of St. Catherine's. We were in the Ontario coal trade."
In 1891, C.H.J Snider sailed in the lake schooners Vienna, Loretta Rooney, Oliver Mowat, Antelope as well as the Albacore, rising to the rank of mate abroad the cargo schooner Stuart H. Dunn. He made acquaintances with many other sailing schooners during this early part of his nautical experience. He then became familiar with the crews that sailed them, and their stories. He stored these stories in his photographic mind. He also became familiar with the various ports to which these craft sailed. At first Snider was "before the mast" as crew, however in his later voyages he was a certified First Mate.
In those years while a student at Jarvis Collegiate, Snider frequently journeyed south to Toronto Harbour in the 1890's. The lower reaches of Jarvis Street reeked of the smell of the open sewer mouth at the foot of that stately thoroughfare. One day when he arrived at the harbour, Snider observed the schooner Barque Swallow[1] at the dock.
"Are you going to Port Credit sir?" asked the knee-panted junior.
"Kin you steer?" replied the captain.
"Yes"
"If I take ye to the Credit how'll ye git back?"
"Shank's mare and the Radial" replied Snider
(at that time the Radial passenger railway operated from Long Branch to Sunnyside, meaning that Snider would have to ride a horse or walk from Port Credit to Long Branch).
The thirteen-year old Snider made the trip at the helm of the schooner while the captain did the heavy work basically done by his crew who had, as it turned out, deserted him for a local tavern!
In the same year of 1893 Snider saw and sketched replicas of Columbus discovery vessels, the Niña, Pinta and Santa Maria, which had been built, outfitted and sent as a gift from the Queen of Spain to the 1893 World's Fair at Chicago. That these small vessels sailed across the north Atlantic without the benefit of auxiliary engines was an amazing feat of endurance.
The trio spent a few days moored in the Royal Canadian Yacht Club's basin off Toronto Islands. They eventually found their way across Lake Ontario, through the Welland Canal and Lakes Erie, Huron and Michigan to a rousing welcome at the Lincoln Park Yacht Club in Chicago. In 1895, Snider made his first sale of one of the pieces of artwork. It was a pen-and-ink sketch of the "Barque Swallow" lying at Port Credit Harbour. At this time he made the first acquaintance with his patron and friend, John Ross Robertson, founder of the Toronto Evening Telegram newspaper of Toronto. For fifty cents, Robertson purchased this drawing of the old scow which was working in the stone hooking trade, hauling sand for the new jail to be erected at the foot of Berkeley Street. This was a foreshadowing of C.H.J. Snider's "voyage through the ocean of newspaper life", which eventually saw him become City Editor, Managing Editor and, as a trustee of the John Ross Robertson Estate, a publisher of the Toronto Evening Telegram.
It was in 1896, the year of Snider's senior matriculation from Jarvis Collegiate at the age of 16, that Aemilius Jarvis long-time commodore of the Royal Canadian Yacht Club, skippered the Oakville-built sailing yacht "Canada" in an international yachting race off Toledo, Ohio. This event was the Canada's cup. It was the first time a Canadian yacht was a challenger in an international race.[2] That event started Snider's coverage of sailing events, and he greatly enjoyed the serious racing of sailing yachts. He wrote, sketched, painted and talked about yachting in a passionate and knowledgeable fashion.
After graduating from Jarvis Collegiate with the highest marks in French of any matriculate in Ontario. Snider started his career in 1897 with the Toronto Evening Telegram as a police reporter. He worked closely with John Ross Robertson in the writing of Robertson's "Landmarks of Toronto" series between 1894 and 1914. Snider became known around the newsroom as "Jerry "or "Skipper "with "Charlie" reserved for family use.
In 1899, came his first big away-from Toronto, all-expenses paid assignment when he described that year's America's cup so dramatically when the yacht "Velsheda"[3] of the United States out-sailed Sir Thomas Lipton's "Shamrock" off Sandy Hook, New Jersey. He later described how Lord Dunraven, a dour Scot, said to be the most unpopular America's Cup challenger of all time, sailed his yacht "Valkyrie" against the "Genesta", "Galatea" and other American yachts. He also described how Sir Thomas Lipton, well known as the most popular loser of all time in Shamrock I, II, III, IV and V, tried to take the America's cup back to great Britain. Snider attended every America's Cup race series between 1899 and 1937. As a sailor and important member of the press corps, he had the opportunity to sail on many of these vessels during that time.

In the 1950s ...
Often Snider would, in later years, speak fondly of luxuriating in the large Fifth Avenue hotel when he was staying each year during the America's Cup races. He would recall travelling to and from Manhattan to Sandy Hook each day as the great vessels one year were becalmed and could not race!
In 1900, Captain Snider and one of his two brothers purchased a schooner called "Whitewing" the first of two stone hooking schooners owned by the brothers. As a yacht, she had run over her anchor and went ashore at Wilson, New York. The wreck was brought to the Miller and Block Shipyard at Port Credit and fitted out for the stone trade which supplied much of the stone, sand and gravel for the building of Toronto in those days. She was subsequently purchased by Lewis Naish of the Credit in 1892. In 1900, the Snider Brothers had her rebuilt, then in 1901, traded her to captain Harry Fowler for Harry's schooner "Wood Duck II".
During his years at the Toronto Evening Telegram, Snider celebrated the widely-popular "America's Cup" event by organizing street shows at the newspaper's headquarters at Bay and Melinda streets in Downtown Toronto. Here interested spectators on the sidewalk could watch the moving models representing the various competing yachts operating on tiers[?] erected across Bay Street.
Snider became a personal friend of Captain Angus Walters, of the renowned Canadian feshing schooner "Bluenose". He participated as crew and as an official observer in many of those famous races between the Canadian schooner and American challengers.
As Snider climbed the rungs of the Toronto Evening Telegram, from cub police reporter to City Hall and City Desk, he covered on the side, every yacht race and every marine event he possibly could. He illustrated his own books and articles of men and ships and the shoals and storms that wrecked them. Seven of these books were on Great Lakes shipping.
In his day, Snider was an outstanding marine archaeologist. Because of his intelligence, knowledge of vessels, and his experience and extensive research, he was frequently called upon as a consultant in identifying vessels by all levels of government.
In 1911, after much research, Snider dived in the murky depths of the Nottawasaga river at Wasaga beach and located the remains of the "Nancy" which had been burned and sunk during the war of 1812 without even firing a shot for Canada. Later, he was instrumental in having her raised, restored and placed for all to see at Nancy Island at Wasaga Beach. Snider also made a model of "Nancy" complete in every detail even to the guns. It was on display for years at the old Marine Museum of Upper Canada at the National Exhibition Grounds at Toronto. In 1948, Snider reported, "forty years ago we started to seek remnants of those honorable sailing vessels which fought on either side of the war of 1812 on the Great Lakes. A harmless folly of extreme youth, with the emphasis on extreme. To date we have found a dozen of the two hundred ships, brigs, sloops and gunboats that took part in that conflict."
The year 1912 saw Snider's first book published initiating a series of historic novels, lavishly illustrated, about the marine action in the War of 1812-14. In due course followed "Faded flags of fadeless fame", "The glorious Shannon's old Blue Duster", "Under the Red Jack", "The story of the Nancy", "The log of the Nancy" and "Tarry Breeks and Velvet Garters".[4]
In 1886, while a student at the little school of Mount Vernon, Ontario, a high-flying baseball struck Snider in the left eye, destroying the nerve and sight for the rest of his life. As a result of this injury, he did-not serve in Canada's Armed forces during World War One or World War Two. However, he did stints as a war correspondent and made a significant contribution to the war efforts of Canada. In World War One Snider initiated a special "Watch Fire" edition of the Toronto Evening Telegram at 10 pm. each evening to keep readers up-to-date with the ebb-and-flow of the action overseas.
Snider attended the first disarmament conference in 1921. He travelled for the Toronto Evening Telegram in Palestine and the Mediterranean as well as the Orkney islands in 1928. He travelled for the newspaper to Germany in 1922, and to Ireland, Spitzbergen. Russia and Northern Europe in 1928, and as a special correspondent in Britain, Germany, Poland and Dazing during the Easter Crisis in 1939. During both world wars his travels had taken him to England, France, Ireland, Palestine, and the West Indies. He attended the Washington Disarmament Conference, and the United Nations organization in San Francisco and every important international sailing contest after 1898.
During these years, Snider crossed the North Atlantic Ocean 17 times, including being the only Canadian aboard the lighter-than-air dirigible R100 on her 57 hour journey from Canada to England in August 1930.
There were indeed many fascinating stories about Snider's travels prior to World War Two. He was in Ireland during "the troubles" and had the challenging task of covering the trail for treason and the subsequent execution in London of Sir Roger Casement towards the end of the First World War. He was on board the "Baltic" with the contentious Archbishop Mannix of Australia who attempted to land in England but was refused admittance and made to return to Sydney. This was at the time of the Easter Rebellion in Ireland and the British feared the effect Mannix would have on rousing the Irish in the south.
In August 1930 when the great lighter-than-air dirigable flew to England after her goodwill visit to Canada including Montreal and Toronto, C.H.J., the only Canadian aboard, helped man the pumps to appease the airship's great appetite for fuel. The year 1937 saw the coronation of King George VI and Elizabeth. Snider sat at Westminster Abbey in London to witness the magnificent ceremony, so sending back vivid word pictures readers in Toronto. He brought home with him the crested chair on which the marchioness of Londonderry, Northern Ireland had sat, and also the best ornate but equally royal blue upholstered chair on which he had sat, often paying for the privilege. Next year in 1938, Snider journeyed on the North German Lloyd liner "Reliance" visiting the world's northern capital cities. He sent back tales of mystery in Russia, eerie fjords in Norway, sunken royal barges in Sweden, the first parliament in the world in Spitzbergen as well as other fascinating stories for Telegram readers. These stories were accompanied by a wealth of photographs, drawings and sketches.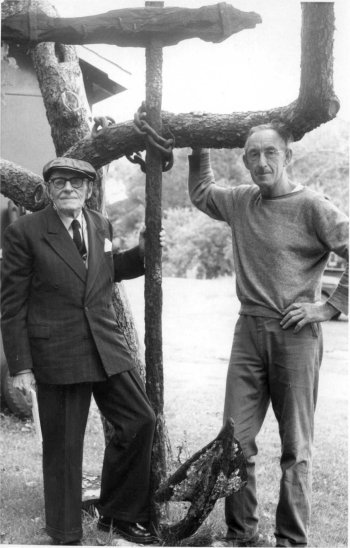 Snider with Willis Metcalfe, another marine historian,
at Metcalfe's home in Prince Edward County, 1966
C.H.J. Snider owned eight sailing vessels from the "Blue Peter" to the "Kingarvie". He raced and cruised thousands of miles in every kind of sailing craft from dinghies to Grand Banks fishermen, and three mastedd schooners. He actually participated as a crew on these vessels as well as an on board observer in a dozen hard-fought contests aboard the champion Nova Scotia Schooner "Bluenose", as well as winning four successive season championships in the Toronto area as owner of the sailing yacht "Gardenia".
Snider was a member of three prestigious yacht clubs, the Royal Canadian and National Yacht Club of Toronto plus the Royal Nova Scotia Yacht Squadron.
Ships and sailing were indeed in his blood. His knowledge of the sailing ships of the Great Lakes both Canadian and American, their rigs, their captains, their builders, the ports at which they were built and the ports from where they sailed was outstanding. He wrote as he learned.
Commodore Thomas K. Wade of the Royal Canadian Yacht Club in making Mr. Snider a life member of the club called him a "describer" of sailing and yachting events "because you write in such a way as to be understandable by sailors and landlubber alike".[5]
"Schooner Days"
Probably C.H.J Snider's most significant contribution to Great Lakes Marine History was the 1303 articles entitled "Schooner Days" he wrote for the old Toronto Evening Telegram from 1931 to 1956. In these articles Snider described the vessels, those who sailed in them as well as the ports from which they sailed. They are based on personal knowledge, notes taken during extensive interviews with lake sailors on the Great Lakes, as well as captains and their families over 60 years. Also of interest in his "Schooner Days" columns were the thousands of letters called "Passing Hails" he received in response to his columns. "Schooner Days" is an invaluable resource for those wishing to study Canada's maritime history.[6]
During World War Two, Snider was a war correspondent in Great Britain, taking a stint as an air raid warden at one point. In one series of articles he described a transatlantic crossing in "banana boat" in December 1941, during the worst days of the Battle of the Atlantic.
Snider founded the British war veterans fund which endeared the Toronto Telegram Newspaper to many British ex-pats in Canada as well as "over-'ome".
Snider was modest about his many accomplishments and never hesitated about crediting those from whom he had compiled historical information. For example, when Harry Hindmarsh of the Toronto Star newspaper proclaimed at an empire club meeting that all he knew Jerry Snider had taught him, the same Jerry replied, "and all I know I owe to John Ross Robertson ".
Snider also won awards for his community service. For example, the city of Toronto awarded him the Medal of Service. The City of Oswego, New York accorded him the "Freedom of the city".
Through the 1960's, while his body was becoming frail, Snider retained his keen spirits. He had given up his weekly "Schooner Days" column in the Toronto Telegram and had limited his travelling a good deal by this time. However, he remained a faithful member of Knox Presbyterian Church on Spalding Avenue in Toronto, attending services weekly. He also worked with Alan Harward, the curator of the Marine Museum of Upper Canada and others to assure that the Museum was kept "ship-shape". Snider was also keen to help assure that neighbouring Fort York, also property of the Toronto Historical Board, was always ready for inspections and safe from the expanding neighbours like the Gardiner Xxpressway, the breweries and the Exhibition Grounds.
Snider continued to live in his Parkside Drive home well into old age. He had the house in High Park in Toronto built in 1911 and moved into it in that year. He had been a widowed since 1932 and he and his wife did not have children. His brother Roy and sister Katie (Mrs. George A. Martin) also lived in Toronto.
C.H.J. passed away Sunday December 12, 1971.
Mrs. Mary Snider
In 1908, C.H.J. Snider married Mary Adelaide Dawson. She was the first female telegraph operator of the Toronto Telegram newspaper where Snider worked as well. The couple moved into their new home at 499, Parkside Drive in Toronto's High Park district in 1911.
Born in Lambton County, Ontario, Mrs. Snider's father was William Dawson, one of the early pioneers of the village of Grand Valley in Dufferin County, northwest of Toronto. Williams Dawson became an excise inspector for the federal government and held positions in Toronto and later on in Waterloo, Ontario. Mary had 3 brothers and 3 sisters.
Mrs. Snider joined the show of the Toronto Telegram Newspaper in 1901. She continued her journalism career after her marriage to "Jerry" Snider. Her specialty however was homemaking. Mary travelled with her husband to England in war and in peace, as well as to the West Indies and the Mediterranean. She wrote many lively articles for the Toronto Telegram, the Canadian Countryman and elsewhere. She was one of the few woman of the time who penetrated to the Kaieteur Falls, in the heart of what was British Guiana. She journeyed through the jungle on this trip when the rivers were the only roads available. She was also a new commentator travelling with C.H.J. On one occasion it was to London, England to report on a national election being held. During World War One, Mary Snider was in charge of the female workers in one of Toronto's munition plants.
An Anglican by upbringing, Mrs Snider become a member of her husband's church, Knox Presbyterian, in central Toronto. She was known to have walked regularly from their home in High Park, several miles along Bloor Street West to Knox Church on Sunday mornings.
At president of the hostess branch of the Toronto Women's Press Club, Mrs Snider presided at the formal luncheon for delegates in 1910 "in a most efficient manner," according to a newspaper account of the day. She was "quite equal to a man, and possibly fare more intelligent..." the story continues! Mary Snider was one of the original members of the Toronto Women's Press Club, and twice its president, she instituted "Market Day Hints" in the Telegram newspaper in 1906, where "women's pages" were introduced. Her "Do you Remember away back when?" feature was a popular and much quoted Saturday feature of the "Tely". One of her best remembered stories was her last. It was a description of a french Canadian wedding for Saturday night magazine in 1932. Most in demand was her article on a cure for anaemia in the Canadian magazine. Another popular story was "Friendship's Millions", a two-page study for the Telegram of Prime Minister R.B. Bennett's fortune and fortunes prior to his becoming leader of Canada's conservative party and eventually Prime Minister. Likely her biggest news "beat" was the Titanic disaster in 1912, which she covered for the Toronto Telegram. She alone of all the host of special news writers concentrating on the New York City Waterfront just after the disaster, pierced the police cordons and met and interviewed the survivors as they landed.
Mrs. Snider became President of the Canadian Women's Press Club, Toronto Branch, for 1930-31. It was at the Press Club when it had been formed in 1904 that colonel George Ham nicknamed her "Happiness" due to her friendly deposition. Many friends and acquaintances referred to her by this name, though she never used it herself.
During her years at the Toronto Telegram she also covered stories in Detroit, Cleveland and Buffalo as well as writing travel features about the West Indies.
One of the highlights of her reporting career with the Toronto Telegram was covering the 1919 Winnipeg General Strike. Publication of local newspaper in Winnipeg had been suspended at the time, and all postal, telephone and telegraph communication cut off. Stories had to be filed via train to U.S telegraph stations, or trusted to passengers on through trains to Toronto. Mrs. Snider's reports apparently always got through on time!
Mary Snider passed away as a result of an illness in September 1932.
[ Back ] Footnote 1: Registered as Bark Swallow, 1877, O.N. 74381; see entry in our Ships Database
[ Back ] Footnote 2: This is only true of international competition on the Great Lakes. In 1876, the Royal Canadian Yacht Club's Countess of Dufferin was the Canadian challenger for the America's Cup off New York. (ed.)
[ Back ] Footnote 3: The author is mistaken; the American yacht was the Columbia. The Velsheda was a British J-class yacht built 1933. (ed.)
[ Back ] Footnote 4: For fuller, precise bibliographies see this page (ed.)
[ Back ] Footnote 5: Snider was also the official historian / archivist of the RCYC, and authored "Annals of the Royal Canadian Yacht Club 1852-1937", first edition, Toronto, Rous and Mann Ltd., 1937 (ed.)
[ Back ] Footnote 6: Indexed transcripts are available on this site.