City of Madras
The name City of Madras was given to (at least) three vessels; the following were Clyde built or owned sailing vessels in the 19th century (Ellerman-Hall had two later steam ships, same name):
City of Madras, 1855, ship, built of iron by Robert Steele & Co., Greenock at the Cartsburn Yard, for George Smith & Sons / City Line (precursor J.R. Ellerman), variously 800 or 914 tons. 1856 wrecked near Stranraer. see "Clyde Shipwrecks" by Peter Moir, Ian Crawford
City of Madras, 1859, iron barque, built by Alexander Stephen & Sons Ltd at Kelvinhaugh; length 200' 0', beam 31' 8', depth 21' 10", 967 tons (builder's old.) Call sign PKTL. 1881 sold to Montgomerie & Workman renamed Duke of Connaught. National Maritime Museum have a painting signed "W.W." See A Shipbuilding History, 1750-1932 and Stephen of Linthouse.
City of Madras, 1882, iron ship, built by Barclay, Curle & Co, Glasgow at the Clydeholm Yard for George Smith & Sons, Glasgow – The City Line; 1655 grt, 1577 nrt, length 260' 3", beam 38' 5", depth 23'; in 1900 sold to Hatfield, Cameron & Co, Glasgow renamed Wemyss Bay. Call sign WHBT. An unsigned painting of this vessel is shown here: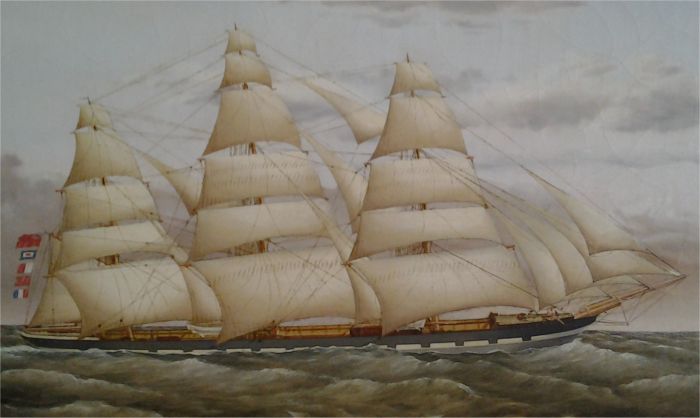 City of Madras, unsigned, not dated.