England expects that every man will do his duty

A probable reproduction of Nelson's signal.
Nelson used the "Telegraphic Signals or Marine Vocabulary" [1] at Trafalgar. The "England expects that every man will do his duty" signal required 12 lifts which were made up of the following flags: 253, 269, 863, 261, 471, 958, 220, 370, 4, 21, 19 and 24. The first substitute (D?) was used for the second 2 in 220.
Nelson originally asked for "England confides that every man will do his duty". The word "confides" did not exist in the code book, but Nelson had acquiesced to Lt Pasco's suggestion to replace that word with the code for "expects". [2]
The word "duty" did not exist either and had to be spelled out with four hoists using the numeric order of the letters D=4, U=21, T=19 and Y=25. [3]
However, two remarks are in order, concerning:
a) some historians omit "that" - code 863 - as a third "word"; however, its inclusion, making the signal a total of 12 rather than 11 hoists, appears to be the most probable, but absolute proof is lacking.
b) the copy of the VICTORY's Signal Book used at Trafalgar was (late C19th) in the Royal United Services Museum (it is possibly the copy now in the British Library referenced as "SIGNAL-BOOK for the Ships of War, 1799" : the printed official code issued by the Admiralty, with MS. additions. Preceded (f. 2) by a printed circular to "the respective captains and commanders of His Majesty's ships," signed by [Sir] T[homas] Troubridge, [Bart., Admiral], James Adams and J[ohn] Markham, Lords of the Admiralty; [21 Jan.-15 May, 1804]. Paper; ff. 118. Small quarto; this document differs from that in the National Maritime Museum under reference SIG/B/76). The manuscript additions concern a note that admirals should change the flags if there is reason to believe that the enemy may have got possession of their meaning, and the illustration that we have put on our webpage is based on the "pasted" over flags in that copy.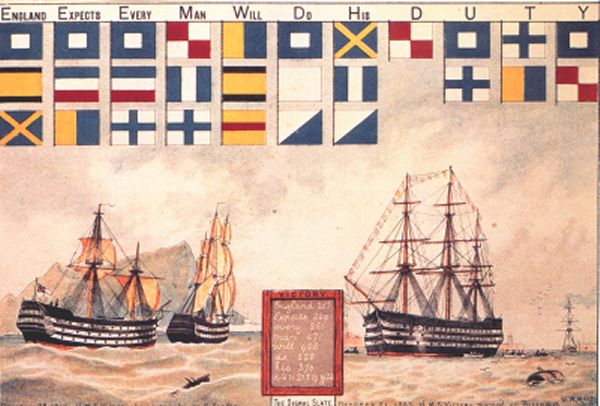 ... from the Boys Own Paper of 1885.
However, some historians have believed over the years that the 1799 code flags were used, and there has been some question of which flag was used as a substitute. The image from the Boys Own Paper of 1885 (there is another, identical, from a Wills cigarette card) – illustrate some differences.
Concerning the accuracy of The Boys Own Paper illustration [there are only 11 lifts shown: 2SU3, 269, 261, 471, 9SU5, 280, 370, 4, 21, 19 and 24] which might appear to be out of step with modern research, it is certainly not alone. One of the more widely accepted references is Hulme's 1894 Flags of the World, their History, Blazonry and Associations which, to some extent, documents the BOP version.
a) The signal for 'that' (863) is missing; the Boy's Own Paper of 1885 - from which the print came - continued a fairly common Victorian custom of equating "confides that" with "expects", thus dropping the adverb
b) The remaining 'inaccuracies' come from replacing "substitute" with "8", "8" with "5", and "5" with "substitute" - whether one of the Popham sets was published with this difference, and whether it was an accepted version, or a mistake is unclear. The set *should* be that of 1803 - and certainly a quick glance at Wilson's "Flags at Sea" shows the Boy's Own image to be in error.
Finally, as with much historic detail, there is still and most probably always will be some residual factual doubt as to the precise flags used; see the near-contemporary 1837 James' Naval History, Vol 4, p34 "there is not, that we are aware of, a single publication that gives this message precisely as it was delivered".
---
Notes:
[1]
1790 - Howe's first numerical code system; 260 entries.
1799 - New Signal Book; sail signaling was dropped; 340 entries; numerical values mostly unchanged.
1800 - Sir Home Popham introduces his 'Telegraphic Signals or Marine Vocabulary'
1803 - Popham's code officially adopted by the Royal Navy; 3000 entries.
1803 [August] - a copy of the code book was captured by the French.
1803 [November] - orders issued to change the numbers that had been assigned to the numeric flags in the 1799 Signal Book.
1804 - Revised code book.
1805 [September] - Fifty revised code-books issued to British fleet at Cadiz.
1805 [October] - Nelson's signal made in revised code at Trafalgar.
1908 - Rediscovery by W. G. Perrin, Admiralty librarian, of 1804 code book and recognition that Nelson's signal was made in the revised code. The only question remains: exactly which flags were used at sea, October 21, 1805?
[2] Nelson's instruction was: "Mr Pasco, I wish to say to the Fleet, 'England confides that every man will do his duty'. You must be quick, for I have one more to make, which is for Close Action." Flag Lieutenant John Pasco replied "If your Lordship will permit me to substitute the 'expects' for 'confides' the signal will soon be completed, because the word 'expects' is in the vocabulary, and 'confides' must be spelt."
The exact wording of the signal has been retained from a primary sources, including the diary of Lt Pasco, and has been widely published without ever being questioned by serious historians. For more details, see Nicolas, 'Dispatches and Letters of Lord Viscount Nelson', London 1844-6, seven volumes. Variations have occasionally been put forward in the popular press and on the internet without references to source: "this day" is occasionally (and incorrectly [4]) inserted after "expects"; "Nelson" has been suggested (incorrectly) in place of "England"; there is no known historical, primary or other document to support such claims, including Nicolas (Volume VII, p149), who quotes Captain Blackwood as refuting James Naval History Volume IV, p34 account of Nelson wishing to 'amuse' the Fleet.
[3] The alphabet used here contained only 25 letters; both I and J used the numeric 9; additionally U and V were inversed, hence U=21
[4] From the song 'Death of Nelson', by John Braham (c.1774–17 February 1856), first performed in Arnold and Braham's comic opera The Americans in 1811. To make the metre scan, Arnold added 'this day' before will do his duty', creating a very persistent misquotation.