Lieutenant - how to pronounce
In addition to Tom Lewis' RAN College "Lieutenant_or_Leftenant.doc", Spiers and Surenne, French and English Pronouncing Dictionary, published Appleton, New York, give in both their 1852 and revised 1912 editions: lev-ten'-ant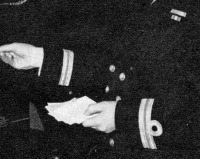 A Lieutenant's rings.
The Shorter OED (2 vols, 1933) is the first reference we can find of a "lefte-nant", then "U.S. liute-nant"; also refers to Old French 'luef' for 'lieu' and the Scottish forms luf- and 'lufftenand'
On the Canadian side of things, the CBC seems to base itself on the 1998 New Oxford Dictionary of English, which they say speculates that the "f" sound emerged at some point before the 19th century "probably when the 'u' at the end of the Old French word lieu was misread and pronounced as a 'v'." The timing [at least] is patently incorrect - c.f. Philip Stubbes in his Anatomy of Abuses, 1583, "They are his liefetenants, his viceregents, ... " and from the American Colonies (Alexander Whitaker, The Minister of Henrico, Virginia), 1613: "Sir Thomas Gates, then and yet our Liefetenant generall ...."
So probably le<F>tenant is the older English and North American form; the US l<OO>tenant appearing during the WWI period or very soon thereafter. See also Frank C. Bowen's "Sea Slang" (Sampson, Low, Marston, 1929): "In the US Navy, a lieutenant. The British sailor prefers Loot, although Luff was formerly the more usual."