Lake Ontario - Long Point to Main Duck, Prince Edward County
Shipwreck study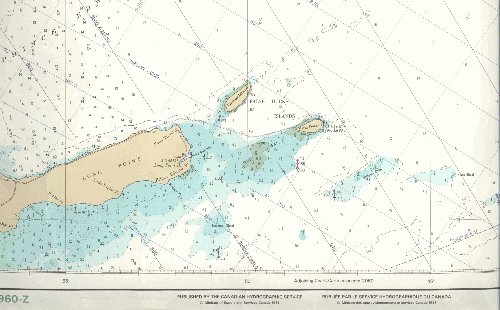 Long Point and surrounding area: original CHS survey 1920, updated to 1981. (Not to be used for navigation.) Click for enlargement.
The area from Gravelly Point (extreme Western edge of the illustration) to False Duck Island to the East) has, since the early nineteenth century been the loaction of a high concentration of groundings and other ship losses. It is exposed as being "down-wind" of the prevailing sou'westerlies of Lake Ontario.
The area includes the promontory of Long Point, with, from West to East, Gravelly Point, Big Sand Bay, Poplar Point, Poplar Bar, Little Poplar Point, Rocky Point, Prince Edward Point (with with Long Point Light and Point Traverse to its North), Gull Bar to the South of Timber Island, and False Duck Island. Traverse shoal, with a minimum depth of 2 1/2 fathoms (15 feet, or approximately 4.5 metres) at low Lake waters, lies to the centre-South of the area. William and Harris shoals extend East-south-east of False Duck Island.
Prince Edward Bay (which includes South Bay and Smith Bay) lies to the North of Long Point, and was highly favoured as a safe anchorage; however, this "safe harbour" obliged many mariners to attempt to pass between the potentially dangerous features described above.

Long Point to Main Duck: original CHS survey 1920, updated to 1981. (Not to be used for navigation.) Click for enlargement.
Extending this area eastward to Main Duck and Yorkshire Island, Psyche Shoal has a minimum depth of 3 1/2 fathoms (21 feet, or approximately 6.4 metres) and, although perturbance of wave patterns may have been visible during extreme meterological conditions, did not pose great danger to shipping during the nineteenth and early twentieth cenuries. Psyche Shoal represents the last obstacle until reaching the shoals extending South and West of Main Duck.
Please also see a brief history of Main Duck Island, and also an account of C. W. "King" Cole's tenure of Main Duck and Yorkshire Islands.