El Real Seminario de Minería
1808 manuscript
The Real Seminario de Minería was founded 1 January 1792 in the Hospicio de San Nicolás and is now [part of] the Facultad de Ingeniería of the Universidad Nacional Autónoma de México. We have not yet established any record concerning the author of this document, Juan Maria Muñoz

Document approx 300pp, 1 3/8" thick w/o boards, manuscript, 8vo (8 1/2" x 6"), many pages faded to illegibility, 4 blank backe endpaper pages filled with more recent mining? sketches, sewn binding broken, paper fragile, stain evidence of water/damp which has also caused page edge uneveness; boards not original, possibly earlier, very light pigskin? [texture is near vellum], very slightly shorter than manuscript (boards marked D. Bonaventure Sermon and ?, with inside note, pencilled C19/20th, 3vol, Bale, 1502, Hain 3473)

First page as follows:
Tomo 2o

Que comprende la Hydrodinamia S...
incluido? ???metria Geometria Sub...
terrania ?? otras bonita cosas ql? Vera? el
curiose aprecado? lector percuciente? à en???

El dueño es el Alumno de Rl.
Seminario de Mineria

Juan Maria Muñoz Bueno y Car...

Non deliciae, sed virtutes proponendae

Son siempre de Minervalas pri????
Estudiar la virtud, no las delices?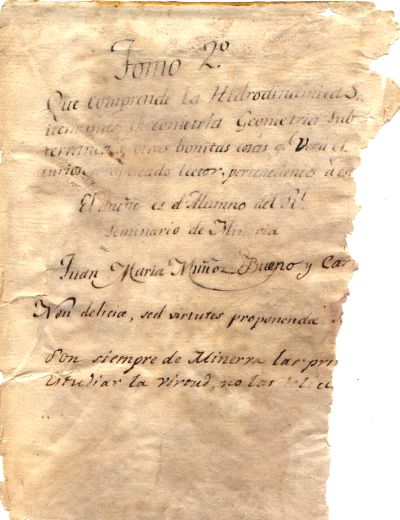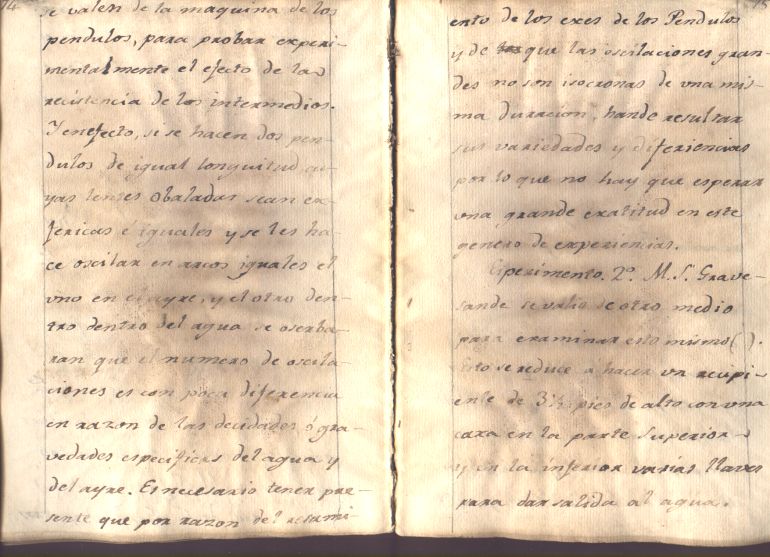 The date, 14 August 1808, appears on the last original page (more recent sketches follow)