"Navy Cut" cigarettes and HERO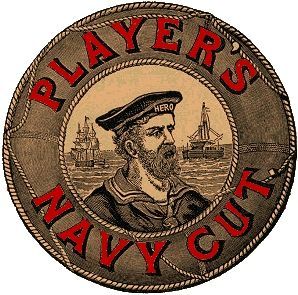 Early logo
The term 'Navy Cut' refers to how RN sailors [C19th and C20th to 1953] would wind twine around rolls of tobacco leaves allowing them to mature under compression, and then slice off the end shredding the tobacco.
John Player & Sons, Ltd of Nottingham put together logos for an advertizing campaign ca 1891, and trademarked the results in 1893.
This was a combination of two earlier trademarks - the lifering bearing the words "Player's Navy Cut" dating from 1888 and the bearded sailor - originally an artist's conception for a campaign registered around 1891 for the "Jack Glory" brand by William Parkins & Co of Chester.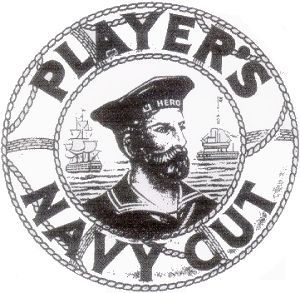 A variant of the same theme
Mullen, Chris, Cigarette Pack Art. A Unique Blend of Cigarette Pack Design, New York, St. Martin's Press, 128pp, gives scuttlebutt as suggesting that the sailor was Thomas Huntley Wood, a crew member of HMS Edinburgh in the 1880s.
Of the two ships in the background, there is little doubt that the one to the left of the sailor is HMS BRITANNIA; to the right, there is a continuing discussion as to whether this is HMS DREADNOUGHT or HMS HERO - the former being more likely.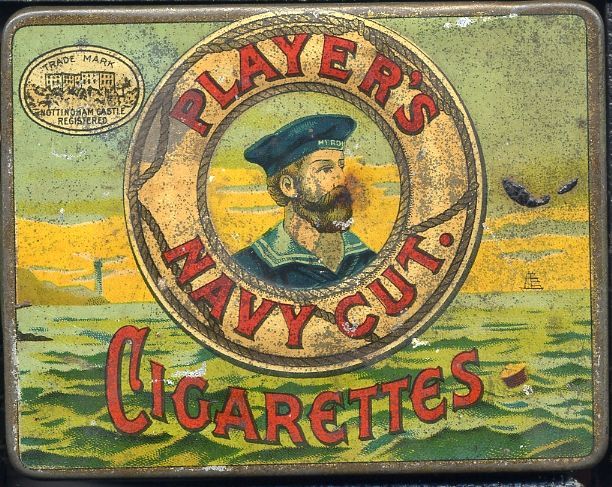 Canadian Player's World War II cigerette tin
The two oddities of the original trademark are the missing "HMS" before "HERO" on the capband, and the two stripes on the collar (the RN uses three, and the original, pre-trademark campaign only showed a single stripe).
The lid of the cigartte tin shown here, a Second World War example produced in Montreal Canada, has omitted both ships (although there is a "suggestion" of one on the right hand horizon), but continues to use the original "Trade Mark - Nottingham Castle Registered" logo.