Red Jacket, by George Cuthbertson
Red Jacket's crew: (back row) David Osler, Bill West (navigator), Jack Beatson, Don Tyler, Loran Gowe (front row) Gordon Fisher, Perry Connolly (owner), Peter Mackinnon
A celebrated sailboat that revolutionized the construction of boats in her day, won lots of races and resulted in a little known Canadian boat designer vaulting to almost instant success. The boat is called Red Jacket and was designed by George Cuthbertson of the design team of Cuthbertson and Cassian Ltd., (later to become C&C Yachts Ltd.). The boat was launched in May 1966 and was found docked at the Royal Canadian Yacht Club in Toronto for many years
Red Jacket was designed for Perry Connolly and featured a first in sailboat construction – an extremely light weight balsa core, which allowed the vessel to compete with – and beat – other 40-foot boats in the Southern Ocean Racing Conference (SORC), or "the circuit." It was the first Canadian boat to win against a fleet of about 85 others, many being the cream of American racers.
Designer George Cuthbertson recalls a batch of orders for racing boats after the big victory. "She came out of the north completely unknown," he said. "The Americans sat up and paid attention".
Red Jacket also made use of a spade rudder instead of hanging the rudder on a skeg, and also featured a bow sprit as a lighter way to reduce pitching. Red Jacket, which draws 7 feet and has an 11 foot beam, weighed 17,455 pounds at launch, which is heavy by 21st century standards, with some low-density foam cored boats of comparable size weighing in at at under 10,000 pounds.
But in her day, Red Jacket was very light. And very fast.
Boat builders at the time were worried about the balsa becoming wet and deteriorating, and Red Jacket was pulled out of the water and weighed each year, along with core samples being taken, but no damage to the core was discovered. Eventually, the testing stopped.
The boat changed hands over the years, and was owned for more than 20 years by Paul Phelan. When he reached his eighties, Phelan no longer raced the boat but watched a hired crew, led by Bryan Gooderham, sometimes from a motorboat nearby as Red Jacket rounds the weather mark.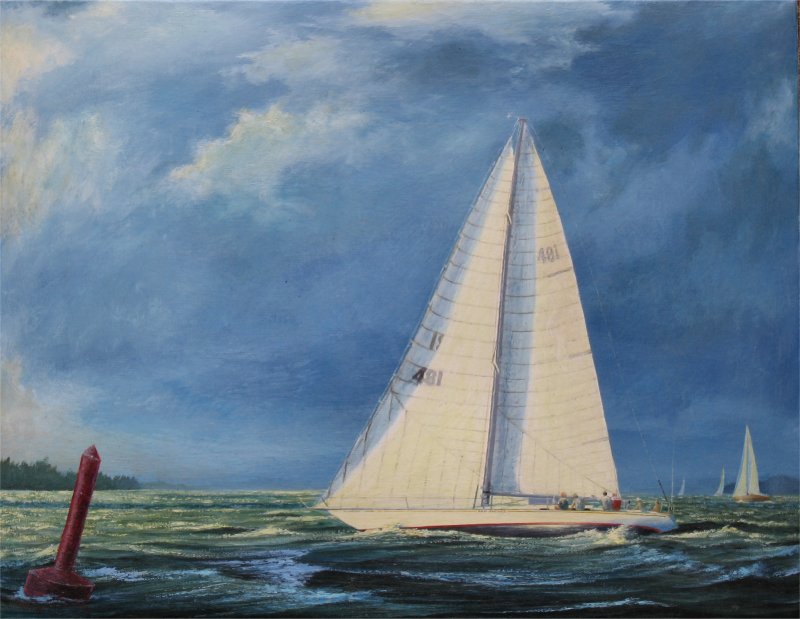 Red Jacket, by Peter Rindisbacher, CSMA; oil on canvas, 16" x 20".
"He likes a good gybe set," said Gooderham of the boat owner. "He's terrific with his crew. He refers to us as his young bucks, although some of us are in our mid 50s." Gooderham said that the boat was still competitive "which says something for the workmanship" and the design of the 33-year-old racer.
In her heyday, Red Jacket won 11 of 13 races in her first season, including the Freeman Cup and the Lake Ontario International. In the 1967 SORC race from St. Petersburg to Venice in Florida, Red Jacket finished first, and so began the spotlight on the boat. Over the years, Red Jacket has had some redesign work, including the addition of a teak deck and a more comfortable interior, a shaved down keel, a hydraulic backstay and boom vang, a larger rudder and a few other changes.
After Paul Phelan passed away in 2002, Red Jacket was owned by Peter Milligan, a Vice Commodore of the Royal Canadian Yacht Club, and was superbly maintained, sailed and raced.
Addendum 2018: Peter Milligan (1949 - 7 November 2018) has most unfortunately passed away, but the scuttlebut is that Red Jacket's future is ensured under new ownership.