Francis Elgar, first John Elder Professor of Naval Architecture.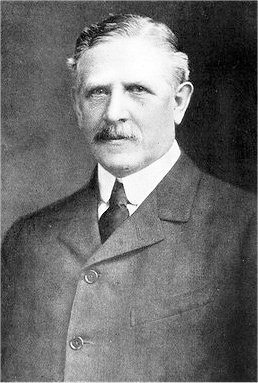 Francis Elgar, LLD (1845-1909)
Francis Elgar (24 April 1845-17 January 1909) was apprenticed at the age of fourteen as a shipwright in Portsmouth dockyard, then continued his education at the Royal School of Naval Architecture and Marine Engineering in South Kensington, under Macquorn Rankine. After serving until 1871 in the shipbuilding branch of the Royal Navy, he entered into various activities, from private practice to General manager of Earle's shipbuilding and engineering company in Hull, involving merchant shipping. He became well known for his investigation into the stability of ships, including accident reports for the Board of Trade.
In 1883, Glasgow University established the first British university department of Naval Architecture, with the position of Jobn Elder Professor, in recognition of John Elder (1824-1869), the Clyde shipbuilder and marine engineer, endowed by Elder's widow, Isabella (1828-1905). Francis Elgar was the first Chair.
His Inaugural Address to the first students was given at Glasgow University on 11 November 1884, calling for an inspired mix of serious scientific background, that he hoped to give them, and extensive practical backgrounf in shipyards. The Address "The Scientific Study of Naval Architecture" was apparently first published in the Nautical Magazine; the copy that is reproduced here is in our collections from the Van Nostrand's Engineering Magazine, Volume XXXII, January-June 1885, D. Van Nostrand, Publisher, New York.
In 1886, Elgar returned to the Admiralty as Director of Dockyards; in 1892, he again turned to the merchant service as consulting naval architect and director of the Fairfield Shipbuilding and Engineering Company of Glasgow, and in 1908 became chairman of Cammell, Laird & Co. of Birkenhead.