The Bulk freighter Fairfax (1890) (Maplegorge, Ionia)
1. General
Name: FAIRFAX
Type: Bulk freighter
Previous Name: IONIA
Later name: MAPLEGORGE
Official Number: (US) 100473
O/N (later Canadian) 111966
Tons (gross): 1287
Tons (net): 1123
Where Built: Grand Haven, MI
Port of Registry / Hail:
Build Year: 1890
Value:
Builder's Name & Date of Certification: Duncan Robertson, 1890
Master's Name:
Subscribing Owners: Loutit Bridge et al.
Length; 209 feet and 2/10ths.
Breadth; 38 feet and 1/10ths
Depth of Hold; 18 feet and 3/10ths
Masts: Three
Stern: round
Bowsprit: None
How Built: carvel
How Rigged: Unrigged
Figure-head: None
Decks: Two
See also the entry for the bulk freighter Fairfax in our ships Database.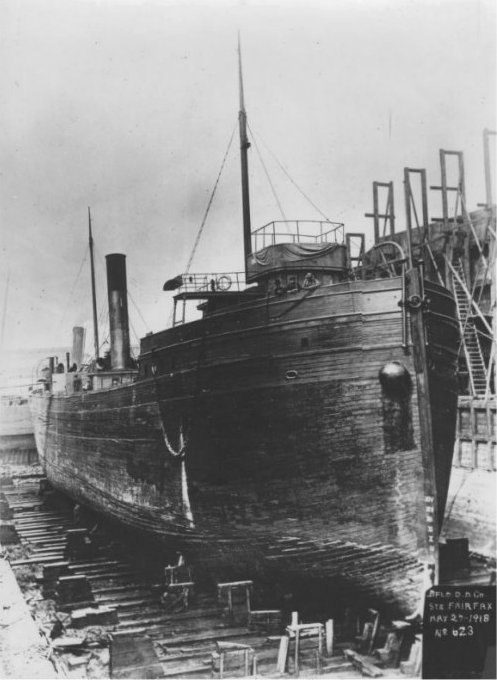 Bulk freighter Fairfax in 1918.
NOTATIONS:
(2) Merchant Vessel List, U. S., 1891: Steam screw IONIA. U. S. No.100473. Of 1287.34 gross tons; 1222.71 tons net. Built Grand Haven, Mi., 1890. 209.2 x 381 x 18.3
(3) Propulsion: Screw; Engine Type: For-and-Aft Compound; Number of cylinders: 2; Number of boilers: 1; Engine(s): 21.5 + 46 x 42 engine, 500hp @ 80rpm by Wilson & Hendrie, Montague, MI. 11'6" x 15' firebox boiler, 125# steam by Johnston Brothers, Ferrysburg, 1890.
(4) Herman Runge List: Steam screw IONIA.(renamed FAIRFAX, Canada, 1912 C111966) U. S. No. 100473. Of 1424 gross tons. Built Grand Haven, Mi., 1890. 209.0 x 38.0 x 21.0. Renamed MAPLEGORGE, Canada, 1920
(5) Preliminary List of Canadian Merchant Steamships Inland & Coastal. 1809 to 1930. World Ship Society : Bulk freighter FAIRFAX. Official Canada No. 111966. Of 1367 tons gross. Built Grand Haven, Mich., 1890 as U. S. IONIA. became Canadian 1912, and renamed FAIRFAX. Renamed as MAPLEGEORGE 1920. 209 x 38 x 21. DISPOSITION: Sunk purposely at Kingston, Ont. 1925
(6) List of Vessels on Registry Books of the Dominion of Canada on the 31st. Day of December, 1920: Propeller MAPLEGORGE (formerly FAIRFAX) Official Canadian Number 111966. Built at Grand Haven, Mich., U.S.A. in 1890. Of 1367 gross tons; 1019 tons reg. Home port, Picton, Ont. Owned by the Canada Steamship Lines, Montreal, Que. 209.0 x 38.0 x 21.0 and of 83 horse power.

7. History
1890, 18 June: Launched as IONIA.
1890: Collision with steamer MONTEAGLE near Waugashance in heavy fog; repaired Milwaukee, WI.
1894: Owned by F.M. Thompson, Detroit.
1899: Owned by Ionia Transportation Co., Delray, MI.
1899, 6 May: Grounded Escanaba, MI, Lake Michigan.
1906: Sold Canadian, reregistered O/N 111966, A.W. Hepburn. Renamed FAIRFAX.
1912, 3 July: transferred Ontario & Quebec Navigation Co.,(Hepburn & Co., Picton); 1367.27 gross / 1018.62 net tons.
1916, 28 April: transferred to Canada Steamship Lines Ltd., Montreal, Quebec.
1920, 4 May: Renamed MAPLEGORGE.
1925, 9 July: Scuttled, Lake Ontario.
Newspaper and other transcriptions
British Whig (Kingston, ON), 19 Jul 1913 : After some months at the Kingston Shipbuilding yards for repairs the steamer Fairfax expected to clear on Saturday afternoon for Deseronto.
British Whig (Kingston, ON), 16 Sep 1913 : Vessels in collision. Particulars were received in marine circles Tuesday afternoon, relative to the collision between two well known steamers, the Lloyd S. Porter and Fairfax. The two vessels came together in the Welland canal. The Porter, loaded with coal, is sunk near Port Robinson about ten miles from Port Colborne. The Fairfax, bound up light, had her stem smashed, but was able to proceed to Erie for repairs. The Donnelly Wrecking company, of Kingston, was asked for assistance. Both boats are owned by the Ontario & Quebec Navigation Company, at Picton.
References and source notes
(1-6) Various registers, mainly Picton, Prince Edward County, Ontario.
(7) Based in part on the Great Lakes Collection, Patrick Labadie.
(8-) As cited in text.