Stormy Weather – Sparkman & Stephens design No. 27 (October 1933)
The History of Stormy Weather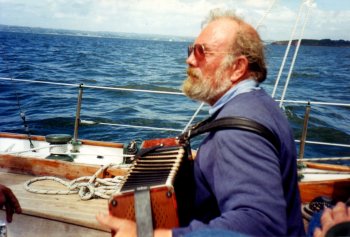 The skipper – Baie de Douarnenez, 1986.
Other mentions of Stormy Weather (more to come) include:
All the information in these pages comes from the personal records and writings of a previous owner of Stormy Weather. He restored her, then sailed her for nearly quarter of a century, "commuting" the Atlantic each year, and using Stormy as a home, a racing yacht, and as the means to promote classic boats, heritage projects and youth sail training.
Parts of the data presented here first appeared, in a slightly modified and shortened form, in Maritime Life and Traditions #3, fully illustrated (now out of print.)