Yacht Development
Tank testing model for C&C 43, year 1975
The following photographs were taken to assist in a conversation concerning a tank test model donated from a most reliable source to the Naval Marine Archive. It possibly post-dates George Cuthbertson's direct involvement, and probably was used for hydrodynamic testing in the Ken Davidson tank at Hoboken (Stevens Institute.) (Note: this researcher has a "personal" involvement, given that Ken Davidson crewed on his "old boat", Stormy Weather in the 1935 Transatlantic race – the winner – and had numerous conversations with both Olin and Rod Stehens about Ken, tank testing, Gimcrack and more...)
The model is standard sandwich construction, pine or fir, is of flat sheer, partially plywood-decked and has beam attachments for the tank carriage.
The scale is not recorded on the model. However, given the (unknown origin) label "C&C 43" and that the overall length is 54 inches, it may not be unreasonable to assume standard carpenters' measurment of 3/4" to the foot (close, but not quite, at 0.78.). There is no indication of waterline, however inerpolating from a flat sheer and the presence of glued sand (well know hydrodynamic aid), the w/l may be estimated at 46 inches. The maximum beam measures 17 inches. The draught has not yet been esimated. Please see a notes on measurement
At exactly 3/4" to the foot, this would hypothetically suggest a yacht 41' 3" overall, waterline of 34' 6" and beam of 12' 9". There was some discussion about "bustle" (IOR or similar) from the original (facebook) photograph; this can probably be excluded as "fairing" rather than "rule."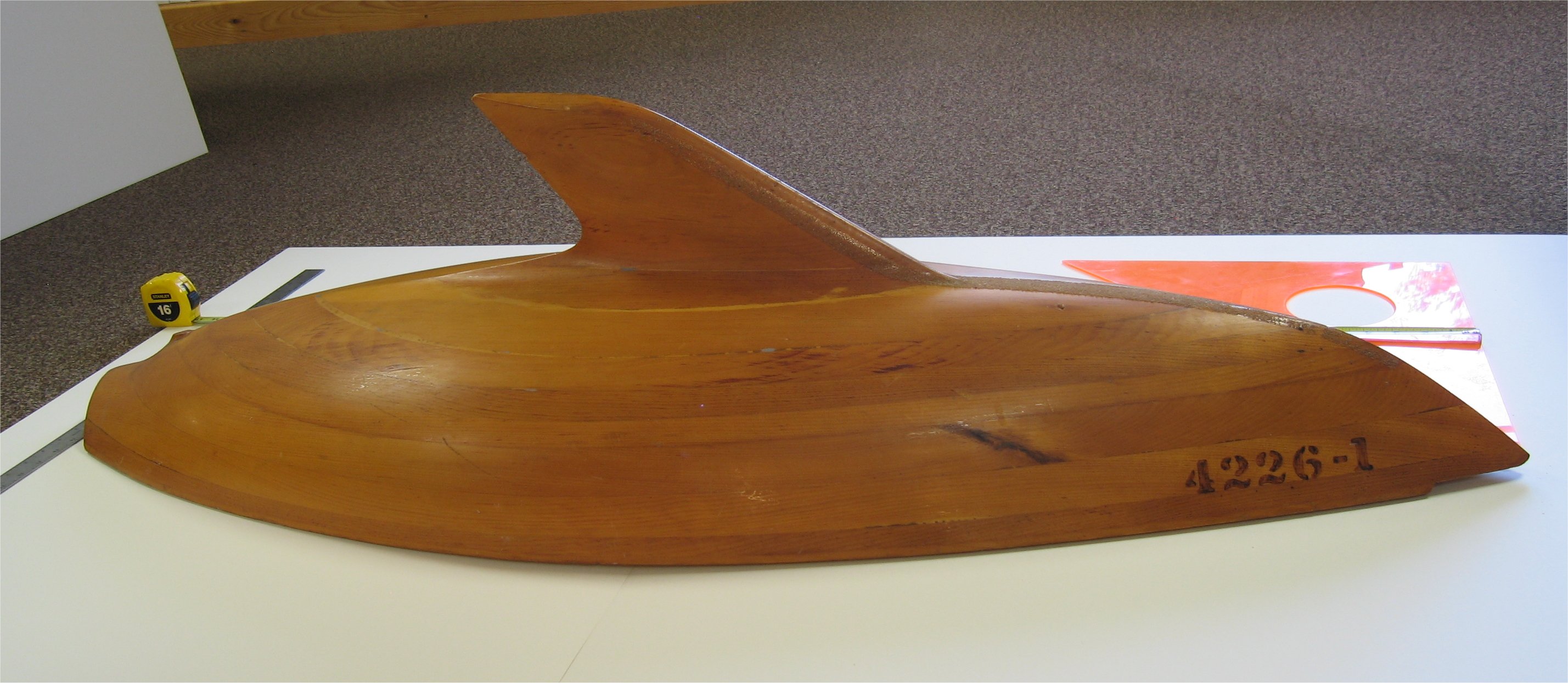 Port side. Model built for testing the hydrodynamic performance of the hull and keel. This model, under research, is labelled as developed by C&C Yachts in 1975 for a C&C 43. Click for enlargement.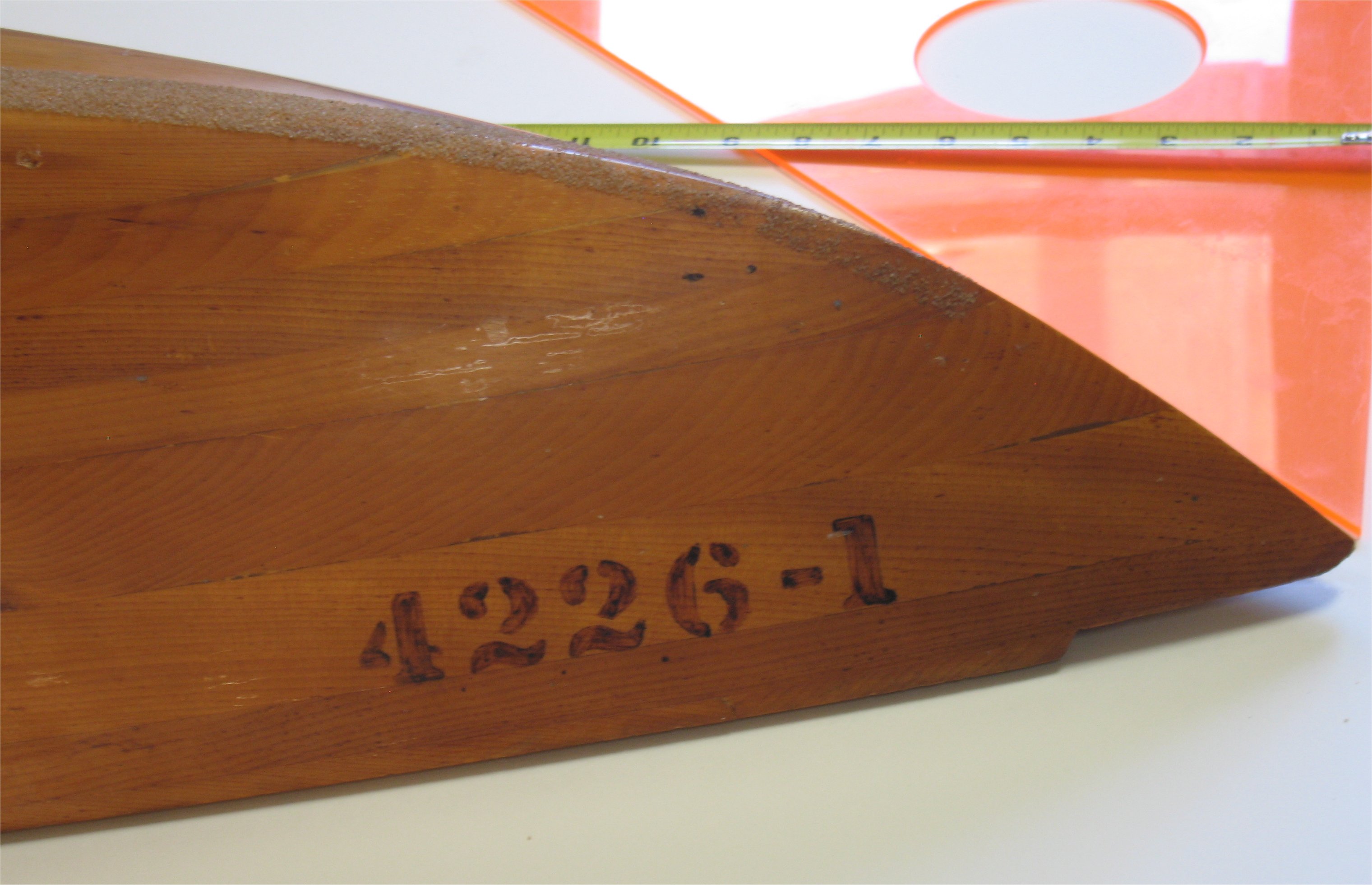 Models were assigned numbers for the testing in the towing tank. On the bow and front edge of the keel there is sand to create a simulation of resistive turbulance as the model moves through the water. Click for enlargement.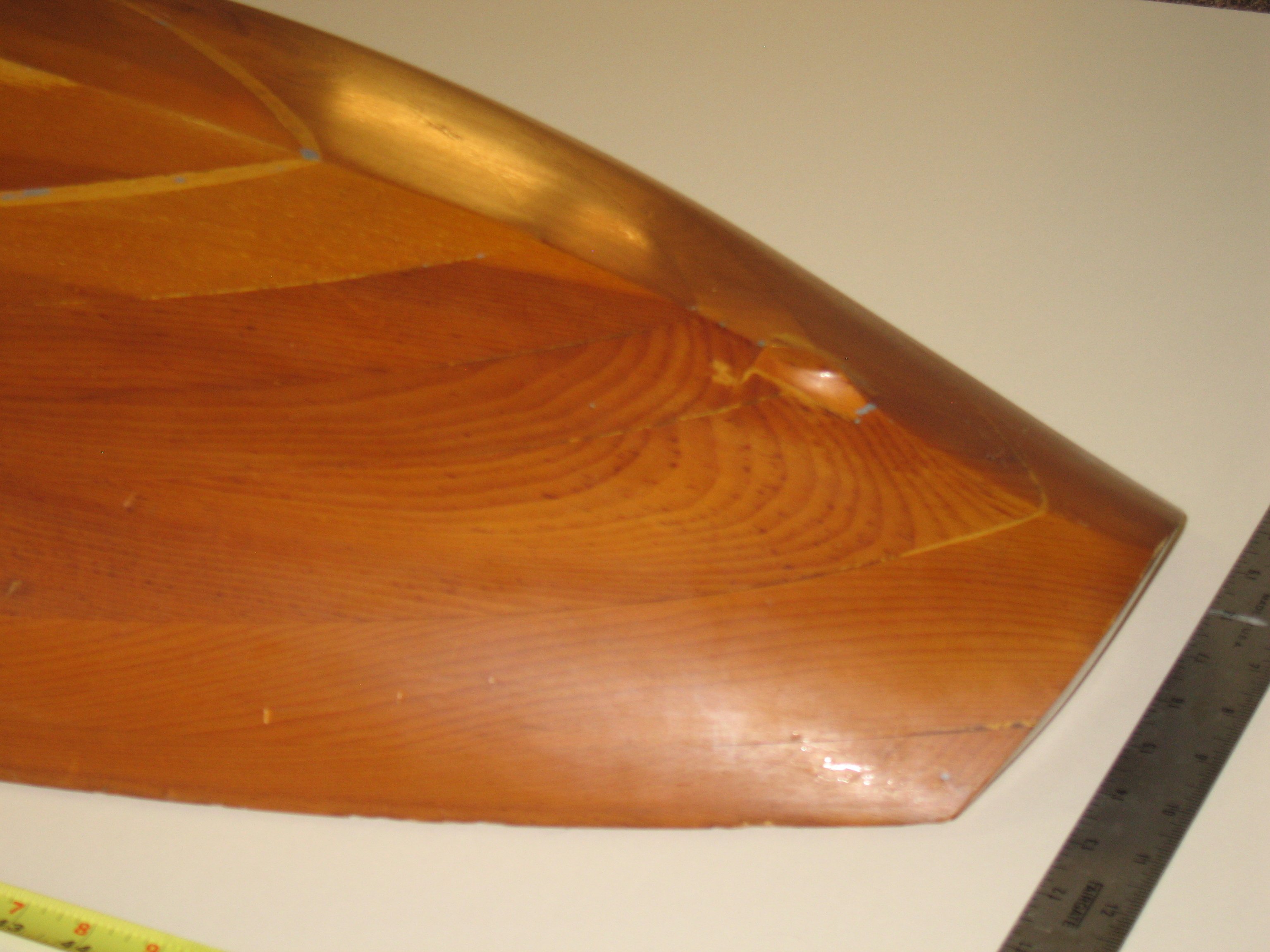 Racing yachts are measured to make sure they follow the rule and are not penalized. This often dictates the shape of the stern of the yacht. Click for enlargement.
[ Back ] Measurment notes: the model was laid out with some accuracy, permitting (thus far) reasonable two dimensional measurement; the depth of keel will follow. However, for photographic purposes, it should be noted that "perspective" or "depth of focus" does not necessarily show the carful alignment (squares, tapes, rulers) that were employed.