Model Foundation Franklin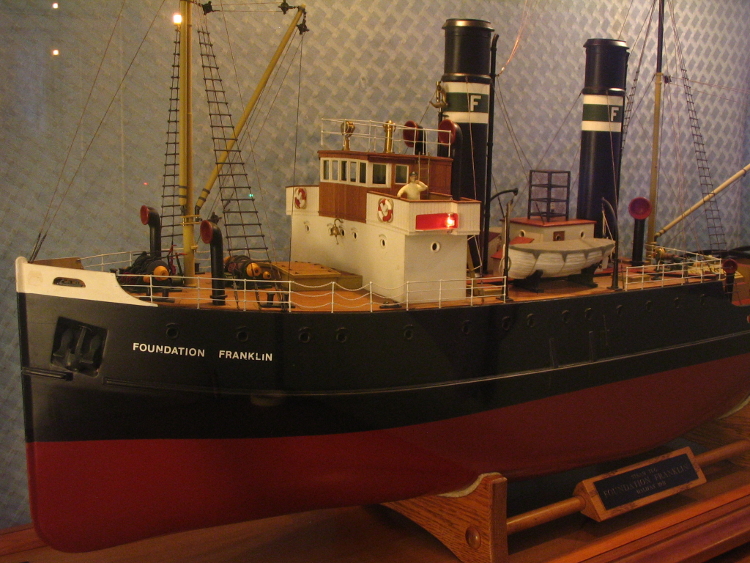 Foundation Franklin
by Robert Holden
This model of the tug Foundation Fraklin is exceptional for the craftsmanship of the modeler and the documentation which accompanies the model. The Foundation Franklin was an oceangoing salvage tug built by John Lewis in Aberdeen for the Royal Navy as HMS Frisky in 1918. She was sold in 1924 and renamed Gustavo Ipland before being acquired in 1930 by Foundation Maritime and renamed Foundation Fraklin. Based out of Halifax, she became famous for many salvage operations and rescues between 1930–1949; many of these events were immortalized in Farley Mowat's book The Grey Seas Under. Her last voyage was in January 1948, when she nearly sank while towing the Motor Ship Arosa though a hurricane. Suffering severe damage, the thirty-year-old Franklin limped home, arriving at Halifax on February 5, 1948. She was broken up for scrap in 1949 in Halifax.
This model was scratch built by Mr. Robert Holden of Sterling, Ontario and finished in 1999. The model is 40 inches overall, with a beam of 8 ½ inches and a height of 28 inches (keel face to tip of masts). The scale is 1:48.
The Foundation Franklin 155.2 x 31.2 x 14 (draft), was built 1918 by John Lewis & Sons Ltd. yards in Aberdeen, yard number 67, as HMS Frisky for the Royal Navy. She was sold 1924 for commercial service as Gustavo Ipland in Germany, but was not put into service. She was purchased in January 1930 by the Founadtion Maritime, renamed Foundation Franklin, and served firstly from Montréal, then from Halifax. Her service during the second World War was exemplary. In 1948 she was damaged during a huricane and broken up in April 1949.
See also more photos of this model.