The Bicentennial of the War of 1812
From the 15th to the 19th of May 2012, the Naval Marine Archive – The Canadian Collection is hosting the Annual Conference of at The Victory, 205 Main Street, Picton.
Papers will be presented that address nautical, political, ethnological and related themes treating the causes, events and outcomes surrounding the events of 1812-1814; a very broad approach will be taken including geographical perspectives from Europe and both sides of the North American participation.
Hosted on the shores of Lake Ontario, this conference will be located at The Victory in Picton. The Victory will also be hosting an exhibition of "War of 1812" art with many pieces by the members of the , to complement the conference.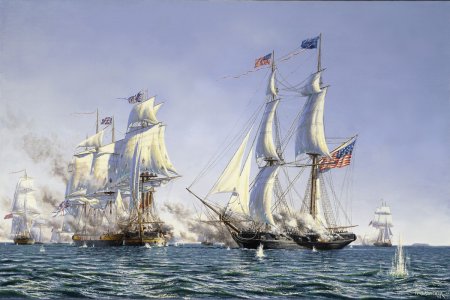 Perry Breaks the Line Peter Rindlisbacher, CSMA
Conference sessions and banquet will be in various locations with time for sightseeing, local attractions, wineries and a strong possibility of a "re-enactment." A variety of accommodation options are available in the immediate area.
The exhibition at the Victory gallery will be ongoing for June and July 2011