Pickle was not HMCS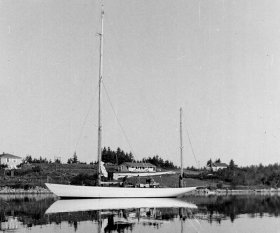 Pickle
[ Click on any
photo for an enlargement ]
Pickle was never HMCS Pickle as there was a minesweeper (Algerine Class, HMCS Pickle, Pennant J293, built by Harland & Wolff, completed 15/10/43) extant at the time, and she was never commissioned (as was HMCS Oriole).
The yawl Pickle (59.4 x 13.4 x 8.5, 42.7 on the waterline, carrying 1,420 sq. feet of sail) was designed by Henry Gruber in 1936 and was built by Burmester Yacht of Bremen as the Helgoland of composite construction, served as a Kreigsmarine training ship during WWII, was reported to have been used by Hitlers elite, and was taken as a war prize by the RN. From photographs and drawings, she is a very obvious copy, albeit a few feet longer, of Olin Stephen's Stormy Weather designed in 1933. RN Colleges Dartmouth and Manadon, perhaps via the RNSA (Vice Admiral Blake and Lt Col Prynne, Hon. Sec.), were allocated a number of yachts as war reparations from the Deutsche Kriegsmarine. Officially titled "Windfall Yachts" [1], they remained in service for some years.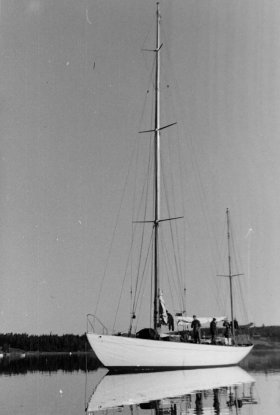 Pickle
The Pickle, named in honour of the sloop that brought back the news of Nelson's victory at Trafalgar, was donated to the RCN in 1953, transported from the UK to halifax onboard HMCS Magnificent as she was deemed unfit to cross on her own bottom, and entered service in Halifax (HMCS Shearwater) in 1955 under the auspces of the Sail Association of the Canadian Navy. Pickle flew Pendant Number QW7 and used radio Call Sign CGTE. She was registered in Halifax and the Shipping regsitry shows her very close to her design dimensions, registered at 26.5 tons.
Pickle spent a lot of time up on the Slipway in HMCS Shearwater. She was often skippered by LCdr Peter Poole-Warren who is reported to have lavished quite a bit of time and effort on her and thought she was a great boat; she took part in a number of races - including one to Bar Harbour, Maine, coming in 2nd with a crew of somewhat raw Cadets. She participated in several Bermuda races, but despite some accounts to the contrary, had no wins in her class.
Maurice Garneau, Lt RCN, sailed as deckhand in 1965, and reports her as "65 foot yawl". This could correspond to the "59 foot yawl" (see dimensions above) if the boomkin and/or mizen boom is included. She was skippered by LCdr Rene Laroche around 1967, and made at least one trans-atlantic crossing. She may have been skippered by Lcdr "Tubby" Coggins at some time.
She was last seen in Dartsmouth Nova Scotia in the late 1970s, and was paid off in 1979. Too expensive for the RCN to maintain, she was purchased by a Norman Gowland of Toronto, then James Rosborough (the manager of thr Armdale Yacht Club's boatyard in Melville Cove), then in 1984, by René Renaud who finally started some work on her, and had her in service on the Baie des Chaleurs, inder the name of Helgoland for a few years. She was then purchased by Julien Chevarie who carried out extensive repairs, finally slated for completion by Michel Tadros in the mid 1990s.
Pickle is not mentioned in either Jane's or Combat Fleets.
Addendum 2013: Helgoland may have entered commercial service as a whale-watching vessel.
[ Back ] Footnote 1: Windfall Yachts; Commander Loftus Peyton-Jones was at some stage i/c.