Southern Belle, ex-Rothesay Castle
1. This steamer was built Clydeside by William Simons & Co. Ltd., Renfrew, in 1861, yard number 102, for the Glasgow - Rothesay passenger service.
| | | |
| --- | --- | --- |
| Name: ROTHESAY CASTLE | Official Number: 29290 | Flag: British |
| Year built: 1861 | Date launched: 11 May 1861 | |
| Description: Passenger excursion | Iron paddle steamer | Tonnage: 173 grt / 85 nrt |
| Length: 197.0' | Breadth: 18.9' (28.75' outside paddlewheels) | Depth in hold: 8.33' |
| Engine builder: William Simons & Co. Ltd., Renfrew | Two cylinder iscillating 40 x 46" stroke, 110hp. | |
| First owner: Alexander Watson of Partickhill, Glasgow | Ports of registry: Glasgow | Registration date: 25 May 1861 |
| Other names: 1866 SOUTHERN BELLE | | |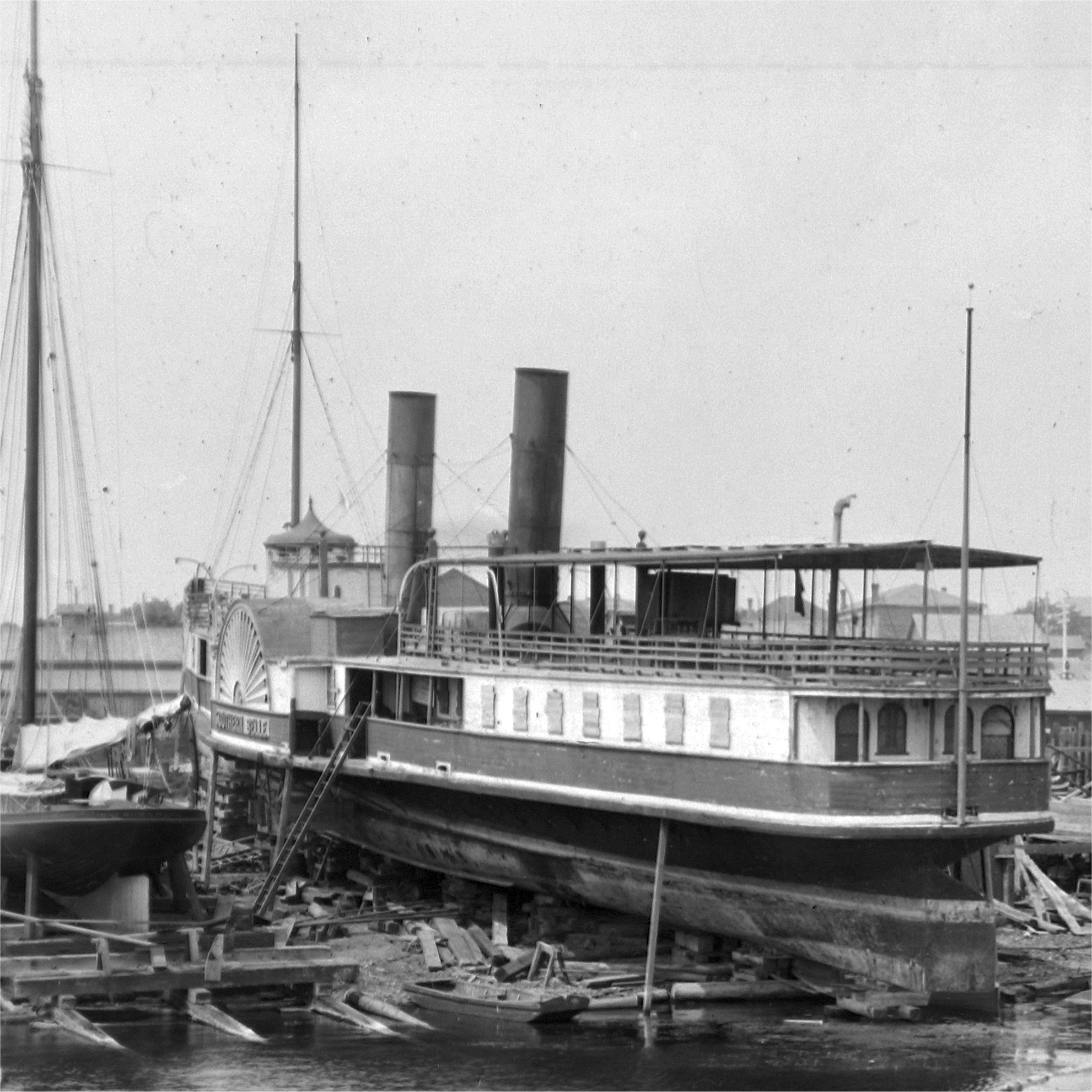 The steamer SOUTHERN BELLE in the Rathbun shipyards at Mill Point in 1892 prior to being broken up. Click for enlargement. Photo: (detail only), NMA, early cellulose film, ref: SW-rathbun_07.
Notes (historical timeline):
Early owners: 06/1863 David McNutt, Glasgow, but officially owned by the Emperor of China for use as a blockade runner during the American Civil War; 08/1863 Robert Adger of South Carolina as a blockade runner.
1866 (sold at Halifax, Nova Scotia) to Leach & Heron, (Thomas Leach) for Gulf of Saint Lawrence and Great Lakes. 1866: excursions Toronto - Niagara.
1868 Ran Toronto to Hamilton, Ontario
1869 Returned to Gulf of Saint Lawrence
1874, February 10 Burned at Layup Dock, Point de Chene, New Brunswick, rebuilt, cabins added, re-measured 427 gross tons (482?)
1874, June Returned to Toronto, to run Toronto to Hamilton
1875, August 16 Sunk in Toronto harbor by running over wreck of steamer MONARCH, all crew & passengers safe
1876 Rebuilt at Toronto. She was rebuilt with a single mast forward and a bowsprit, but probably had two masts previously.
1876, April 26 Renamed SOUTHERN BELLE, re-registered at Toronto, chartered to Canadian Southern Railway, ran Toronto to Hamilton
1878 Southern Belle, class B1, New tonnage 370; Built Glagow, by Napier [sic], 1861; Owner: D.S. Kieth, Halifax; Value $20,000; Iron; formerly Rothsay Castle, rebuilt 1875. (Association of Lake Underwriters: Classification designed exclusivley for effecting insurance, Buffalo, NY)
1886 Owned Toronto & Hamilton Navigation Company, Limited, Toronto
1889 Laid up & retired
1891-1892 Owned (for scrap) by Frankel Brothers, Toronto (the Frankels probably removed the boilers and engine); broken up at Rathbun yard, Mill Point (Deseronto), Ontario
Kingston, Ont., Nov. 5 - The old iron steamer SOUTHERN BELLE, which was a blockade runner during the war, is being broken to pieces at Deseronto. The Marine Review, November 5, 1891.
1892 No longer appears in "Inland Lloyd's Vessel Register".
Broken up in 1888/89 [believed in error]
Schooner Days, CCCLXVI (366) "Unscrambling Two Or Three Steamers" and MCCD (1250) "That Southern Belle"
Some confusion exists over "Rothesay" (with an "e") vice "Rothsay" in the ship's name.
References and sources:
(6-10) C. Patrick Labadie, Alpena County George N. Fletcher Public Library
(2-4, 17) Caledonian Maritime Research Trust
Photo: NMA photograhic archives.