The schooner-barge Rickarton (1890)
General
1. Port of Picton Registry, Number : 3 of 1912
Name: RICKARTON
Type: Scooner-barge
Official Number: 111967
Former name: Chippewa
Tons (gross): 1234.12
Tons (net): 1113.72
Where Built: Marine City, Michigan.
Port of Registry / Hail: Picton
Build Year: 1890
Value:
Builder's Name & Date of Certification: Martin P. Lester, 1890
Master's Name:
Subscribing Owners: Lake Ontario and Quebec Navigation Co.,
Length; 222 feet.
Breadth; 30 feet
Depth of Hold; 27 feet
Masts: Two
Stern: square
Bowsprit: Standing
How Built: Carvel
How Rigged: Schooner
Figure-head: None
Decks: One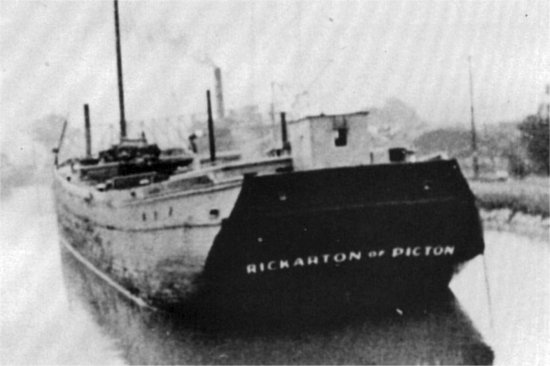 The RICKARTON, circa 1914 (Mauthe fonds).
See also the entry for the schooner-barge Rickarton in our ships Database.
NOTATIONS:
The CHIPPEWA (1890) was renamed RICKARTON in 1912 after her puchase by A.W. Hepburn (Picton, Ontario) and regsitered to one of his shipping lines, the Lake Ontario and Quebec Navigation Co.
Rickarton. Schooner RICKARTON.* Official Canadian Number 111967. Of 1114 tons reg. Built at Marine City, Mich., U.S.A. in 1890. Home port, Picton, Ont. Owned by Canada Steamship Co. of Montreal, Que. 222.0 x 30.0 x 22.0 * Formerly CHIPPEWA. List of Vessels on Registry Books of the Dominion of Canada on the 31st. Day of December, 1920
The 1234 ton schooner-barge RICKARTON foundered, November 1928, in 90 feet of water 3 miles north of Port Dalhousie, Ont. On Lake Ontario, a total loss. (Tom Tumilty fonds.)
Newspaper and other transcriptions
The schooner barge was named for A.W. Hepburn's residence, the "Rickarton House." See "Castles on the Bay", by Lisa Van Meer, County Magazine, Vol. 29, Fall 2008, No. 129
References and source notes
(3) Dominion of Canada, 1920
(4) Tom Tumilty fonds.
(5) County Magazine ISSN 0826-3035.