The schooner Cataract (1874)
General
Port of Picton Registry, Number 4 of 1875 :
Name: CATARACT
Type: Schooner
Official Number: 72963
Tons: 193 & 5/100
Where Built: Picton, Ont.
Port of Registry: Picton, number
Build Date: November 16, 1874
Builder's Name: John Tait
Master's Name: Jacob Collier
Length; 105 feet & 5/10ths.
Breadth; 24 feet
Depth of Hold; 10 feet and 5/10ths
Masts: Two
Stern: Square
Bowsprit: Standing
How Built: Carvel, of wood
How Rigged: Schooner
Figure-head: None
Decks: One
Subscribing owners; Chas. S. Wilson of Picton & Solomon and Jacob Collier of South Marysburg, all joint owners, sold to Samuel Shepard of Port Stanley, Henry Arkell, also of Port Stanley & Meredith Conn of Tyrconnell: Dated April 25, 1878, they were still owners in June of 1881.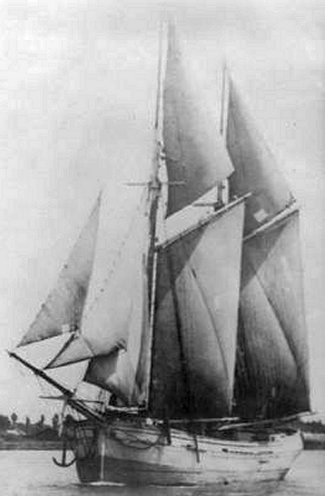 Schooner Cataract.
See also the entry for the schooner Cataract in our Ships Database.
Note: Roblin's Mills, where the schooner Cataract was built, lies on Long Reach, the East shore of Prince Edward County, about six miles North of Picton. Administratively, specifically for the registration of ships, it has been considered as "Picton" on a regular basis.
Official # 72963 ; CATARACT ; Picton ; schr ; 1875 ; Picton, Ont. ; Sails ; 105.5 x 24.0 x 10.5 ; 193 tons ; Sam. Shepherd, Port Stanley, Ontario.
CATARACT ; 240 New Tonnage ; built at Roblin's Mills, by Tait, in '74 ; Owned by T. McGibbon ; Port of Hail, Picton ; Value $5,500 ; Class A21/2, ; Comments, Repairing
Abandoned and sank in Sarnia Bay; Registry closed January 25, 1921
Newspaper transcriptions
References to the schooner Cataract appear in C.H.J Snider's articles:
Schooner Days CCLXVIII (268) "Tait's Types: Round Sterned Delaware, Gun-Barrel Picton, and her Hickory Jibboom"
and more briefly in:
"Gold Hunters", 25 Jun 1932,
"Thirty-Eight Christenings For One Prince Edward Lady", 14 Nov 1936,
"'Nigger-In-Woodpile' and 1st Propeller", 14 Sep 1946,
"Telling more of Ella Murton", 10 Feb 1951.
References and source notes
(1) Research by Mr. Bill McNeil of Toronto
(2) Sessional Papers, 1887, Page 63
(3, 4) Lloyds Vessel Register. 1890, Page 11
(5) C.H.J. Snider Schooner Days index, Naval Marine Archive.