Plans and various
Our cataloguing is only partial, but is an ongoing project.
Ship's Plans, yacht designs, ship plans and drawings, etc.
In our main catalogue, our ships plans are catalogued here – including yachts, merchant, naval and model entries.
An older, but more extensive partial listing is also avaialble, Many designers, naval architects and research units are represented here (Underhill, Sparkman & Stephens, Alan Pape, P. Bolger, etc. etc.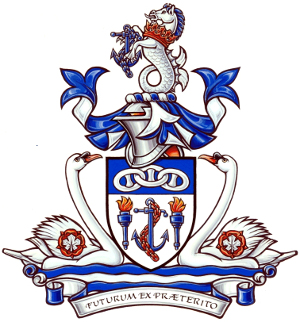 Our Coat of Arms;
Motto "Futurum ex præterito" (Saint Augustine)
This is currently a work in progess, to rationalise, facilitate and expand our resources. Some pages are very recent, some date back twenty years and may or may not have been reviewed and/or edited recently; we appreciate any suggestions for improvements.