Serials
Our online library catalogue is available here. Given the complexities of indexing, the following extracts from our database are only very partial. Please also see separately the books, magazines, etc that are for exchange or sale as duplicates or surplus to our requirements. Enquiries about our holdings are welcome.
The Ladies' Collection
The Stephen R. de Chene Collection and a short
biography.
The Ross Richardson Collection and a short
biography.
General and Stormy Weather collection and a short history of
Stormy Weather
:
[The Society holds some 250,000 journals , magazines, periodicals etc. Others, not listed above include Boat Building, Boat International, Canadian Tall Ships, Classic Yacht Regatta (Antigua, Pamphlets), Der Yacht, Harpers, Latitudes and Attitudes, Life Boat, Lifeboat, Light House, Maritime Policy and Management, Model Boats, Model Engineer, Motor Boating (and Sailing), Naval Architect, Neptune, Neptune-nautisme, Ocean Navigator, Ocean Voyager, Porthole, Practical Sailor, Professional Mariner, Professional Navigator, Seafarers, Ship and Boat International, Ships And Ship Models, Ships in Scale, Ships Monthly, Sports Afield, Tallships, Voiles et Voiliers, Warship Technology, Yachts And Yachting, etc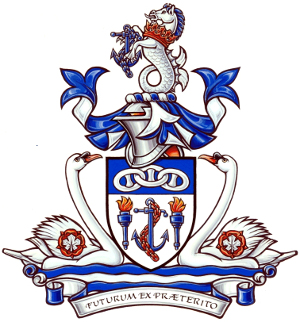 Our Coat of Arms;
Motto "Futurum ex præterito" (Saint Augustine)
This is currently a work in progess, to rationalise, facilitate and expand our resources. Some pages are very recent, some date back twenty years and may or may not have been reviewed and/or edited recently; we appreciate any suggestions for improvements.