Guide to Sources for Research into the Royal Canadian Navy
Standard References
These works were not published by the Government of Canada. They are, however, considered to be highly accurate and are standard references for the study of Canadian naval history.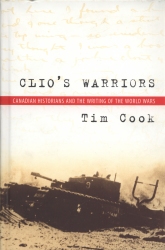 Clio's warriors : Canadian historians and the writing of the world wars : Tim Cook (Vancouver : UBC Press, 2006) (Studies in Canadian military history; no. 10.)
One of Canada's leading military historians examines the subject of historical memory and writing, the creation of archives, and the war of reputations that followed each of the world wars. While not an "official history" in itself, and being largely "army" in focus, there are significant entries on each of the Navy and Air Force. Writing the World Wars -- 1 Documenting War and Forging Reputations, 1914-18 -- 2 The War of Reputations, 1918-39 -- 3 Clio in the Service of Mars, 1939-45 -- 4 History Wars and War History, 1945-48 -- 5 Official History, Contested Memory, 1948-60 -- 6 Forging the Canon of Canadian World War History, 1960-2000 -- Conclusion: An Ongoing Dialogue -- Notes -- Select Bibliography of Official and Semi-Official Canadian Histories.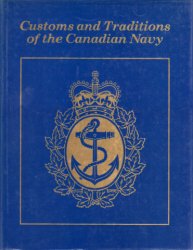 Customs and Traditions of the Canadian Navy : Lt(N) Graeme Arbuckle (Nimbus, 1984)
This book was produced to compliment the official Manual of Customs and Traditions. It is the most significant book on the subject focused exclusively on the RCN. Arbuckle describes in considerable detail both the practice and the historical development of many of the traditions and customs of the Royal Canadian Navy. Written for a more general audience, this is both very readable and thoroughly researched.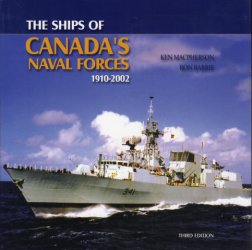 The Ships of Canada's Naval Forces, 1910-2002 (3rd ed.) : Ken Macpherson and Ron Barrie (Vanwell, 2003)
This comprehensive book provides short unit histories of the ships that have served Canada's marine services, complete with photographs and specifications. Many of these photographs are rare. Bibliographic note: This third edition followed a first (1981) edition The ships of Canada's naval forces 1910-1981, a 75th anniversary edition The ships of Canada's naval forces 1910-1985 and a second [sic] (1994) edition The ships of Canada's naval forces 1910-1993; these were all sub-titled "a complete pictorial history of Canadian warships" and were formatted appreciably larger than the 3rd ed. (32 cm compared to 27 cm) which therefore has appreciably smaller illustrations, albeit a few in colour. We hold all four editions for research purposes.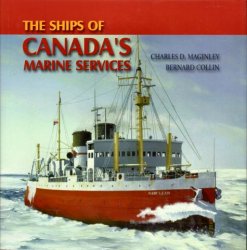 The Ships of Canada's Marine Services : Charles D. Maginley and Bernard Collin (Vanwell, 2001)
This comprehensive book provides short unit histories of the ships that have served Canada's marine services, complete with photographs and specifications. Many of these photographs are rare.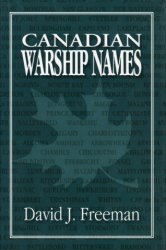 Canadian Warship Names : David J. Freeman (Vanwell, 2000)
David Freeman was an advisor to the RCN's Ships' Names Committee 1988-1999. Through new, original research, he has compiled more than 900 names of Canadian naval vessels, shore establishments, and some British Royal Navy vessels. With each name is a description of its origin and meaning, each ship that used it and their pennant numbers, the dates in commission, and other information. Freeman also includes a long discussion of the various processes and precedents for the naming of ships that have developed over time.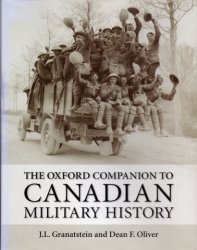 The Oxford Companion to Canadian Military History : J.L. Granatstein and Dean F. Oliver (eds), (Oxford University Press, 2011)
Written by two of Canada's most respected military historians, this encyclopedia format volume provides short, thoroughly researched entries on many of the people, places, and events that are important to our naval and military history.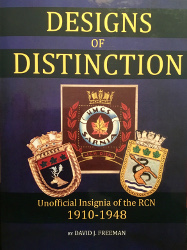 Designs of Distinction: Unofficial Insignia of the RCN, 1910-1949 : David J. Freeman (Training Development Services: Victoria BC, 2015)
Before the RCN had official badges and mottos for its ships, sailors took it upon themselves to create them. This exhaustively researched book collected as many of these unofficial insignia as possible. The result is a full colour exhibit of the insignias that sailors chose for themselves to sail and fight under.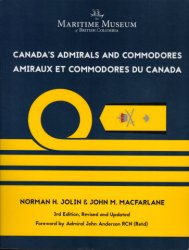 Canada's Admirals and Commodores / Amiraux et commodores du Canada : Norman Jolin and John M. MacFarlane (Maritime Museum of British Columbia: 3rd edition, 2016)
This book provides biographical information of the nearly 300 flag and general officers who have reached the rank of Commodore or Admiral (or the equivalent) while serving in Canada's armed forces since 1910.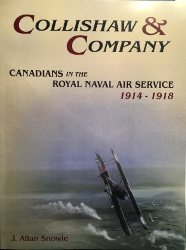 Collishaw & Company: Canadians in the Royal Naval Air Service, 1914-1918 : J. Allan Snowie (Nieuport Publishing: Bellingham WA, 2010)
Biographical sketches of the 943 Canadians who entered Britain's Royal Naval Air Service in the First World War. Engaged on nearly every front throughout the conflict, they were to be found in German East Africa, Mesopotamia, Gallipoli, Romania, Russia, and especially in the contentious skies over the Western Trenches of France and Belgium, on air defence of Great Britain, and flying patrols across the North Sea.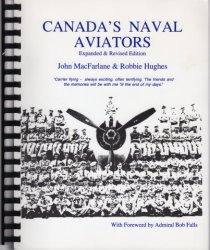 Canada's Naval Aviators : MacFarlane, John; Hughes, Robbie (Shearwater Aviation Museum Foundation, 1997 [revised and updated])
An alphabetical, annotated list of the more than 2,200 pilots who flew as members of the Canadian Navy, or who were Canadians serving as aviators in other navies. Includes some photos of individual pilots, with information on their training, activities during and after the wars, and other biographical information. Note: our holdings innclude the personal copy belonging to Robbie Hughes, and his notes and photographs used for editing the revision.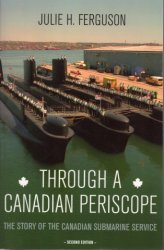 Through a Canadian Periscope: The Story of the Canadian Submarine Service : Ferguson, Julie H. (Dundurn: Toronto, 2014 [2nd edition])
Established in 1914, at the beginning of the First World War, Canada's submarine force has overcome repeated attempts to sink it since then. Surprise, controversy, political expediency, and naval manipulation flow through its one-hundred-year history. Heroes and eccentrics, as well as many ordinary people, populate this remarkable story. Note: our holdings include all of the author's research notes and documentation, including recordings of interviews.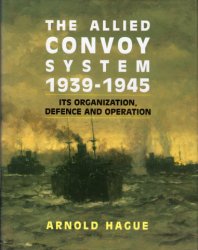 The Allied Convoy System, 1939-1945 : Arnold Hague (Vanwell, 2000)
Drawn from one of largest collections of convoy records in existence, this book describes the development and operations of Allied convoy systems. With many accompanying tables and additional appendices, it is an indispensible resource on the subject.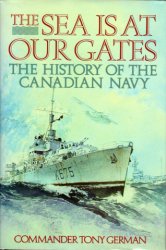 The Sea is at Our Gates: The History of the Canadian Navy : Tony German (McClelland & Stewart, 1990)
This is a vividly written account of the Canadian navy, from its colonial roots through the twentieth-century wars to the close of the Cold War, with perspectives from the messdecks, quarterdecks, and high command.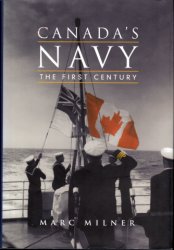 Canada's Navy: The First Century : Marc Milner (University of Toronto Press: 2nd edition, 2010)
The only comprehensive and accessible single volume study of the Canadian Navy to date, Canada's Navy examines the interwoven issues of maritime politics and economics, defence and strategy, and national and foreign policy. Bibliogaphic note: we also hold the first edition, (UoT Press, 1999).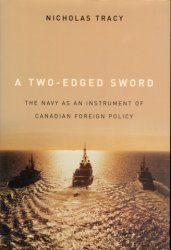 A Two-Edged Sword: The Navy as an Instrument of Canadian Foreign Policy : Nicholas Tracy (McGill-Queen's University Press, 2012)
This first major study of the Canadian navy's contribution to foreign policy takes a comprehensive look at the paradox that Canada faces in participating in a system of collective defence as a means of avoiding subordination to other countries.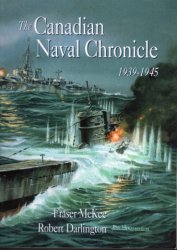 The Canadian Naval Chronicle, 1939-1945 : The Successes and Losses of the Canadian Navy in World War II : Robert A. Darlington and Fraser M. McKee (Revised ed., Vanwell, 1998)
The Naval Chronicle tells the story of every naval interaction with the enemy during the Second World War, based on archival research and the personal recollections of those who served. Each entry also lists the names of those lost. It includes a complete list of merchant navy vessels lost.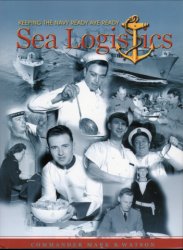 Sea Logistics: Keeping the Navy Ready Aye Ready : Mark Watson (Vanwell, 2004)
This book examines the Canadian context to the development of Accountant, Supply and Secretariat, and Logistics Branches, from the Navy's earliest days through the busy peace enforcement operations of the 1990s, up to the beginning of the 21st century. Along with the extensively researched and documented history, the author (a serving officer) has provided profiles of some of the support personnel whose service was outstanding, and a generous sampling of the many humorous anecdotes he received from various contributors.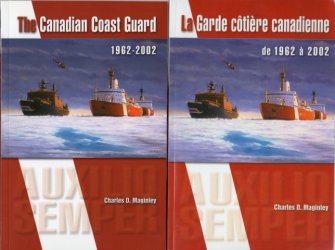 The Canadian Coast Guard, 1962-2002 et en français La Garde côtière canadienne de 1962 à 2002 : Charles D. Maginley (Vanwell, 2003)
Although not an "official" history, this successor to Appleton's Usque ad mare was produced with the blessing of the Canadian Coast Guard, and as a companion to Maginley & Collin's The Ships of Canada's Marine Services (see above). After a look back at the Coast Guard's predecessors and an examination of the factors that led to its formation in 1962, it traces its evolving organization, the development of its fleet of ships, hovercraft and aircraft, and the progress of navigation and communications systems over the 40 year period.
Bien qu'il ne s'agisse pas d'une histoire « officielle », ce successeur de Usque ad mare d'Appleton a été produit avec la bénédiction de la Garde côtière canadienne, en tant que compagnon des Ships of Canada's Marine Services par Maginley & Collin (voir ci-dessus). Après un retour sur les prédécesseurs de la Garde côtière et un examen des facteurs qui ont conduit à sa formation en 1962, il retrace l'évolution de son organisation, le développement de sa flotte de navires, d'aéroglisseurs et d'aéronefs, ainsi que le progrès des systèmes de navigation et de communication pendant cette période quadri-décennale.
Bibliographic note: an updated edition The Canadian Coast Guard fleet, 1962-2012 was published by Long Hill Publishing in 2014 in English only.
Curatorial note: We hold the original oil painting by Yves Bérubé, CSMA, used for the cover art.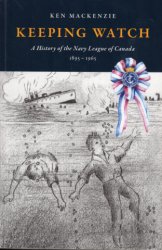 Keeping Watch: A History of the Navy League of Canada, 1895-1965 : Ken Mackenzie (Aldridge Street: Victoria BC, 2010)
This is the story of the Navy League in Canada as it moved, in step with Canada, towards full sovereignty. From its origins as a Branch of the British Navy League and a wiling participant in what has been called "the Great Naval Game" before 1914, to its rebirth in the worst days of the First World War as a humanitarian effort on behalf of sailors and seamen suffering the vicissitudes of the war at sea, to its role in preparing Canadian youth to become good citizens – and hopefully follow a career at sea – to its efforts to instil a sea consciousness in Canadians, it is a story that is still on-going.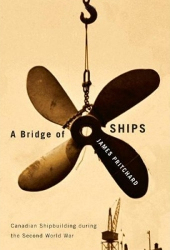 A Bridge of Ships: Canadian Shipbuilding during the Second World War : James Pritchard (McGill-Queen's: Montreal & Kingston, 2011)
The story of Canada's shipbuilding industry is as astonishing as that of the nation's wartime navy. The personnel of both expanded more than fifty times, and with the disappearance of the Canadian shipbuilding industry from both the land and memory, this volume recalls and assesses its contribution to allied victory. Curator's note: This seminal work was five years in the making; we assisted with some of the author's research, and were to some (financial) extent responsible for its publication as a hard cover volume rather than a trade paperback as originally proposed by the publishers.