Guide to Sources for Research into the Royal Canadian Air Force
Standard references
These works were not published by the Government of Canada. They are, however, considered to be highly accurate and are standard references for the study of Canadian aeronautical history.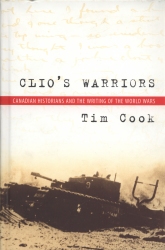 Clio's warriors : Canadian historians and the writing of the world wars : Tim Cook (Vancouver : UBC Press, 2006) (Studies in Canadian military history; no. 10.)
One of Canada's leading military historians examines the subject of historical memory and writing, the creation of archives, and the war of reputations that followed each of the world wars. While not an "official history" in itself, and being largely "army" in focus, there are significant entries on each of the Air Force and Navy. Writing the World Wars -- 1 Documenting War and Forging Reputations, 1914-18 -- 2 The War of Reputations, 1918-39 -- 3 Clio in the Service of Mars, 1939-45 -- 4 History Wars and War History, 1945-48 -- 5 Official History, Contested Memory, 1948-60 -- 6 Forging the Canon of Canadian World War History, 1960-2000 -- Conclusion: An Ongoing Dialogue -- Notes -- Select Bibliography of Official and Semi-Official Canadian Histories.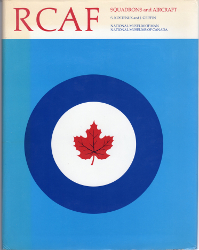 RCAF : squadron histories and aircraft, 1924-1968 : Samuel Kostenuk and John Griffin. (Toronto : Hakkert, 1977)
This is a narrative account of Canadian military aviation from its beginnings to 1968, with information on badges, chronology, commanders, higher formations and squadron locations, representative aircraft and operational history.
The full list of contents is available in our catalogue.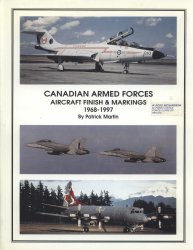 Canadian Armed Forces : Aircraft Finish and Markings, 1968-1997 : Patrick Martin. (Langley, B.C. Martin Slides 1997)
There is an earlier volume (1947-1968) that we will add to our collections when we can find it.
Canadian military aircraft : serials & photographs 1920-1968 == Avions militaires canadiens; numéros de série et photographies 1920-1968 : John A. Griffin. (Ottawa, Canadian War Museum, 1969)
This monumental, and quasi-definitive, work contains a register of serials and photographs, representing eight years of work by a past president of the Canadian Aviation Historical Society. While it is not an "official" history, it was printed by the Queen's Printer for Canada (Ottawa) and was distributed by the Queen's Printer through seven regional Government bookshops.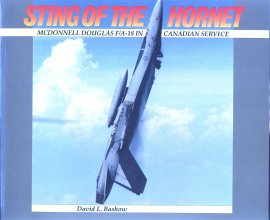 Sting of the Hornet : McDonnell Douglas F/A-18 in Canadian service : David L. Bashow. (Ottawa : Canuck Publications, 1987)
The author writes in his preface that he seeks to record some of the activities and spirit off the first five yearsof Canadian CF-18 operations.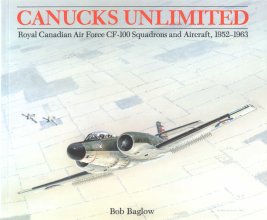 Canucks unlimited : Royal Canadian Air Force CF-100 Squadrons and aircraft, 1952-1963 : Bob Baglow. (Ottawa : Canuck Publications, 1985)
A written and visual record of front-line RCAF CF-100 fighter squadrons, all-weather crew training at 3 AW(F) OTU, and CF-100 weapons practice from the early 1950s to 1963.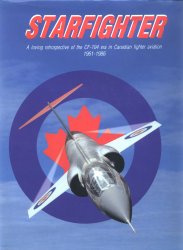 Starfighter : a loving retrospective of the CF-104 era in Canadian fighter aviation, 1961-1986 : David L. Bashow. (Stoney Creek, Ont. : Fortress Publications, 1990, 1991)
Summary of the contents: Preface -- Genesis -- Big Plans, First Steps -- In Full Stride -- Halcyon Days -- Different Strokes -- Slipping the Surly Bonds -- Goodbye to Some -- Home Fires Burning -- Passing the Torch -- Some Close Calls -- War Stories and Miscellaneaous Ramblings -- Epilogue.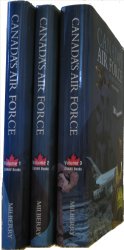 Canada's Air Force : at war and peace (three volumes) : Larry Milberry. (Toronto, Ontario : CANAV Books, 2000-2001)
Volume 1 starts with WWI Royal Flying Corps and Royal Air Service, the interwar years, and the first part of WWII. Volume 2 covers the Night Fighters and Intruders; Bomber Command; Medium Bombers; Coastal Command; air transport overseas; awards and decorations; and the War Artists. Volume 3 opens with the doldrums, when most squadrons and aircraft were disposed of, then moves to the Cold War build-up. Canada support of UN efforts in Korea, then NATO and NORAD. The type of fighters from the Mustang, Vampire, Sabre and CF-100, to Arrow, Voodoo and Bonmarc.