Guide to Sources for Research into the Royal Canadian Air Force
Aircraft Histories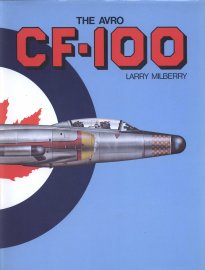 The Avro CF-100 : Milberry, Larry and Peter Mossman. (Toronto, CANAV Books, 1981)
The Avro CF-100 twin-jet interceptor is one of Canada's great aviation success stories. It is the only Canadian-designed fighter to go into mass production. This book describes the aircraft's development from design and first prototype flights to all later Marks, including proposals for a four-engine CF-100 and an STOVL ground-attack version, telling the story not only of the aircraft but of the people who flew it. In its heyday the CF-100 served on the front line with NORAD and NATO. The book includes the largest and finest collection of illustrations of the CF-100 and its era ever published with over 300 photos, engineering drawings, cut-aways, foldout cockpit diagrams, and maps, as well as superb colour profiles by aviation artist Peter Mossman.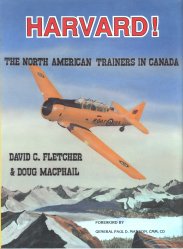 Harvard! : the North American trainers in Canada : David C. Fletcher. (San Josef, B.C. : Dundas, Ontario : DCF Flying Books, 1990)
A comprehensive look at the Harvard and its variants in Canada - the only country to produce, import and export large numbers of the type. It traces the stories of each of the variants used in Canada, their wartime and post-war military employment, their civilian careers, formation team usage and film roles. An appendix covers the individual histories of over two thousand airframes used by the Royal Canadian Air Force and the Royal Canadian Navy.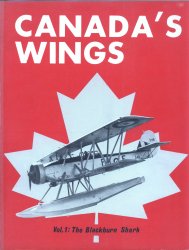 The Blackburn Shark (Canada's Wings, Vol. 1) : Carl Vincent (Stittsville, Ont. 1974)
The Shark, both in the UK's Fleet Air Arm and the RCAF, designed to be used as a torpedo strike force, did not see such service during the second World War; however, they did serve on patrol and anti-submarine duties on the Pacific coast.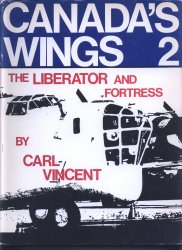 Consolidated Liberator and Boeing Fortress (Canada's Wings, Vol. 2) : Carl Vincent, with J.D. Oughton, E. Vincent and illustrated by G.G. Hopp. (Stittsville, Ont. 1975)
The Liberator, the main subject of this work, was a versatile heavy aircraft that was used for multiple purposes. It had long range capabilities, was extremely reliable, could be used as a bomber or passenger transport, or for photo-reconnaissance, minelaying, dropping supplies and agents, and as an attack aircraft against surface shipping and submarines.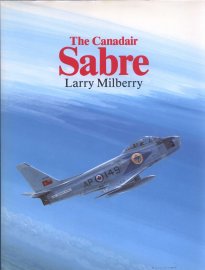 The Canadair Sabre : Milberry, Larry edited by Robin Brass, illustrated by Geoff Bennett. (Toronto, CANAV Books, 1986)
This book contains the largest number of Sabre photos ever published in one single source; there are drawings, a full production list various specs and statistics, and even drinking songs, poems and cartoons. The story of the 1815 Sabres (North American F-86) built under licence by Canadair in Montreal started in the immediate post-war years, when plans were made to complete 100 aircraft. The program soon gained momentum, reaching a production rate of two a day. Both Canadiar Sabres and RCAF pilots served with the USAF in Korea. The RCAF's first Sabre squardrons were formed at St. Hubert, Uplands, North Bay and Bagotville, then moved to the U.K. at North Luffenham and finally to the Continent. Their story is enlivened with details from the squadron diaries and the memories of those who were there.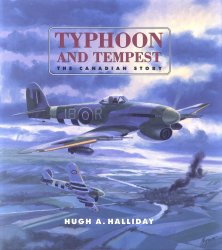 Typhoon and tempest : the Canadian story : Hugh A. Halliday. (Toronto : CANAV Books, 1992)
From 1942 onwards, Canadians flew these aircraft, most often with RAF squadrons.